When we talk about Mallorca, we inevitably think of paradisiac beaches, sunsets and unequaled terraces on Mediterranean landscapes. In addition to all this, the island is a perfect setting to spend an incredible vacation with the whole family. The following are just a few of the many options to enjoy Mallorca offers the smallest of the house.
Excursions for children to enjoy the landscapes of the island, simple and adapted
Ses Fonts Ufanes, Campanet (Natural Monument since 2001). This is one of the most impressive and shorter for the whole family, in a short walk and after days of rain excursions can see one of the unique natural phenomena of Mallorca.
Finca Son Real, Can Picafort. The property was acquired by the Government in 2002 with the aim of preserving all its natural and ethnological values, as well as its archaeological sites. It's located on the northeast coast of Mallorca, on the road between Can Picafort and Artà, in the municipality of Santa Margalida. In its 395 hectares of land we can find: native farm animals and traditional crops of Mallorca, a spectacular interpretation center and archaeological museum on the estate, free of charge, archaeological sites and a set of natural ecosystems.
Finca Pública del Galatzó, Calviá. Currently it is accessible to all visitors free of charge and offers a great diversity of landscapes, flora, fauna and architectural and historical heritage.
Puig de Maria, Pollença. Without a doubt, an ideal excursion to do with family. It is a short walk through a spot among oak trees. The origin of the hermitage dates back to the year 1348, it was one of the main Majorcan monasteries and a school for the daughters of the nobility. Legend says that 3 women, "Can Sales les Dones, the mid-fourteenth century saw a great light and approach the Virgin appeared to them. It has recreational area and basic services.
Restaurants for the whole family to enjoy a fun lunch or dinner
Trens, Santa Catalina. Its main attraction is that it is set with railroad motifs, from its seats that emulate the train, to several scale models, with a train that walks through a tour of almost the whole place. The most entertaining thing is that the starters and desserts arrive at the table through small, great experience for all.
El Balcón de María, Santa Ponsa. It has a magnificent terrace with views to the sea and children's area which includes a small chiquipark.
Cafè Botiga Amadip, Palmanova. It has a patio with a vegetable garden with aromatic plants, hammocks and space for the little ones with monitors on the weekends from 13h to 17h free from 4 years for families who stay to eat.
S'Hort, Country Club, Santa Ponça. This is a perfect enclave in an environment with unbeatable facilities: terraces, lush gardens, swimming pool in summer, daycare and own animation to entertain the little ones.
Mallorca, island of castles
The island has an enviable natural and historical heritage where, among other things, its towers and castles attract attention, this is just a sample of the most beautiful.
Bellver Castle, Palma. Its main feature and what makes it unique is that it is the oldest castle in Europe with circular plant. The exteriors of the castle are composed of several pedestrian paths and places of interest, and it is the largest green area we have in our city. Short excursions can be made in the middle of its forest and there are 2 playgrounds.
Capdepera Castle, in northest Mallorca. It's located on a mound with an excellent view over the interior of the island, the coast and the channel of Menorca.
Alaró Castle, ubicate at the top of the hill of Alaró to 815 m of altitude. It is one of the three rocky castles of Mallorca (along with the Castell del  Santuari in Felanitx, and Castell del Rei in Pollença) that served as defense and protection of the island
What we do in Palma?
Some time ago, Palma was named by the English newspaper The Times as the best city in the world to live, and to a large extent it is a perfect city to enjoy family life.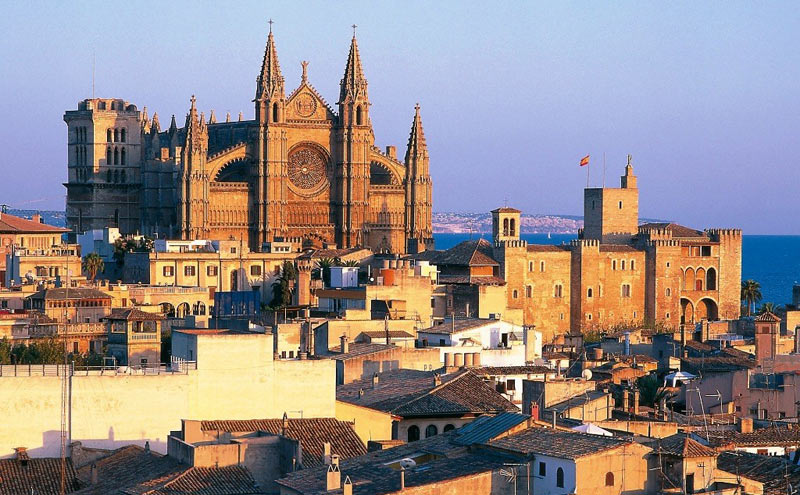 Here are some examples.
Walk through Parque del Mar, at the foot of the Cathedral of Palma. It has a large children's area with a giant slide, grassy area and abundant shade, ideal to make a stop on the way or spend an afternoon with the children of the house.
Visit Es Baluard, Palma. It has a terrace with magnificent views of the Bay of Palma. Inside we can find more than 500 works of modern and contemporary artists from all walks Balearic both as an international reference art. Several rooms are combined with permanent collections and temporary exhibitions.
Spend the afternoon at the Gran Hotel. There is the headquarters of Caixa Forum where temporary exhibitions are held that normally have reserved a children's area. This modernist building was one of the most luxurious hotels in Majorca although it closed its doors in 1941. Its view from the outside is spectacular where it emphasizes its great facade rich in ornamental elements. Admission is free for children under 12 years.
Let's enjoy a unique experience!
If we still have strength, we can organize an exit to enjoy some of the experiences that Mallorca offers us … examples?
Spend a day in Palma Aquarium, one of the star visits to do with children on the island. It is one of the largest marine parks in Europe, has an impressive water tunnel, 8,000 animals or more than 5 million liters of salt water. Also, let sharks swim next to you is something unique.
Go to Sóller by train. It is another of the experiences that you can't stop living when you visit Mallorca. An unforgettable ride on a train from the last century that crosses the Serra de Tramuntana from Palma to Sóller. Once there, get on the tram and go to the port of Sóller, another charming place that you will surely enjoy.
A day of adventure in Jungle Park, a forest park where nature and adventure offer an unforgettable visit for the little ones. From the age of 4 they can participate in different circuits adapted and with different degree of difficulty.
Adventure for the whole family!