Mallorca is renowned for its beauty. From sparkling waters in sun-soaked coves to gorgeous mountain greenery, it's easy to see why so many celebrities own a property in Mallorca.
West Mallorca
Annie Lennox – Sóller
Annie Lennox has a house in one of the most beautiful towns in Mallorca. Soller's stone buildings line narrow streets that weave in and out of leafy squares. Tourists often travel to the area on the vintage train from Palma, which dates back to 1912. Soller is one of several serene towns scattered along the Mallorcan west coast, but it boasts a slightly more local feel than some of its neighbours.
Annie Lennox is a frequent visitor to Mallorca, also exploring other regions. Last year, she posted a photo on Instagram overlooking staggered rooftops in Palma. Our property portfolio is home to the latest villas, townhouses, fincas, and apartments on the market across Mallorca. So, you can start exploring too!
Catherine Zeta-Jones & Michael Douglas – Between Valldemossa and Deià
Michael Douglas is said to have bought his vast S'Estaca property back in 1990 with his then wife, Diandra Luker. The pair initially put their multi-million-euro property on the market following their divorce. In 2019, Michael Douglas showcased the estate in the promotional video below, with hopes of selling the entire estate. He even narrates the footage himself.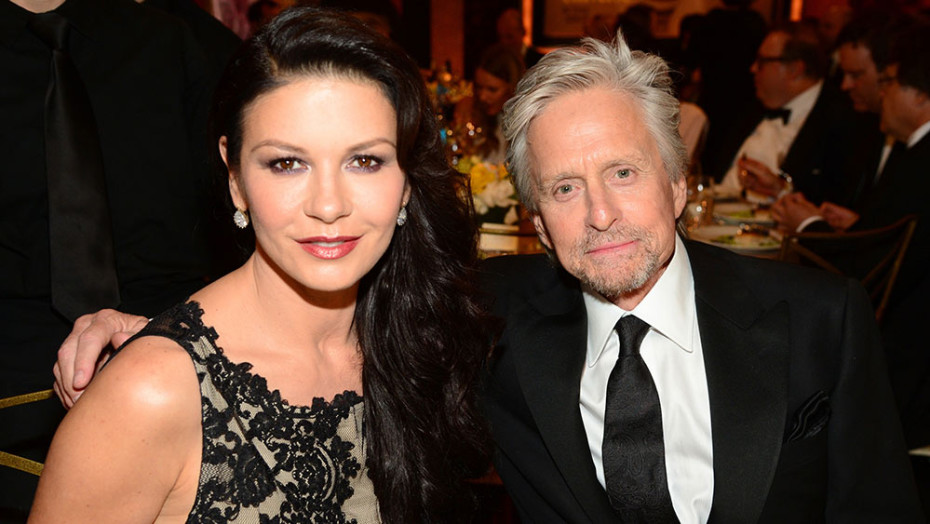 But, it seems Michael Douglas couldn't face leaving Mallorca behind. Instead, he bought his ex-wife's share and continues to own the property with his current wife, Catherine Zeta Jones.
Their S'Estaca estate sits on the gorgeous west coast of Mallorca. It's not far from the quaint villages of Valldemossa and Deià, as well as a UNESCO heritage site. The region is home to breath-taking mountain ranges, cute cove beaches, and sandy stone houses. For more information on the area, have a look at our West Mallorca guide.
Richard Branson
It's safe to say that the Branson family are true fans of Mallorca. So much so, that Richard Branson's son and daughter-in-law named their daughter Eva-Deia, after the idyllic artists' village. The couple even took their daughter on her first holiday there.
Richard Branson currently owns the entire Son Bunyola private estate to the west of Deià and Valdemossa, spanning 680 acres. According to its website, the estate includes "three luxury villas available for exclusive hire" and is "home to many olive and almond trees as well as grape vines". Previously, Richard Branson owned an exclusive hotel in Deià, which is famous for its exquisite combination of mountain scenery and coastal views.
Properties in the area range in price. You can browse our collection of stunning Deià properties here.
North Mallorca
Rafael Nadal – Manacor
Rafael Nadal is from Manacor, Mallorca's second largest town. He now owns a multi-million-euro home in the town. Historically, people have lived in the area since at least 2000 BC. Today, the town is full of amenities and lively industry. Manacor is perhaps best known for the Raphael Nadal Tennis Academy, with Nadal opened in 2016.
Manacor's surrounding areas are ideal for building expansive countryside fincas. It's within easy driving distance of ports and little coves, with the amenities of the nearby town. Browse our luxury properties and plots near Manacor for more information.
South Mallorca
Brad Pitt – Puerto Andratx (also called Port d'Andratx)
Puerto Andratx is often described as the most beautiful harbour in the Mediterranean. It's thought that Brad Pitt fell in love with the Balearic Islands while shooting his 2016 film, Allied. He then purchased a spectacular villa near Puerto Andratx.
Puerto Andratx has a little something to offer everyone. There are wonderful fine-dining restaurants, famous for their array of freshly caught seafood. If golfing is your sport of choice, you can head to the nearby town Andratx. There, players are treated to a challenging golf course complete with sixty bunkers and seven lakes. For a spot of exploring, head to the gorgeous Sa Dragonera island, a nature reserve surrounded by crystal blue waters.
For more information about buying a property in Spain, have a look at our guide on questions to ask before you buy.
Historical Figures who enjoyed Mallorca
Frédéric Chopin and George Sand – Valldemossa
In November 1838, Geroge Sand travelled to Valldemossa with her Children and Frédéric Chopin. They stayed until February 1839, spending the cold winter surrounded by gorgeous scenery. The progressive pair were rather at odds with local society, which created some friction. And, Chopin's tuberculosis became progressively worse in the colder months. However, the picturesque area clearly left a lasting impression. Sand later wrote:
"Mallorca is the El Dorado of painting (…). It is the green of Switzerland, under the sky of Calabria, with the solemnity and the silence of the Orient".
Agatha Christie – Puerto Pollensa
Novelist Agatha Christie didn't own a property in Mallorca, that we know of. But, she did spend an exciting time staying at Puerto Pollensa which is perched along Mallorca's northern shores. Agatha Christie's stay in the 1930s served as the inspiration for her novel, Problems at Pollensa Bay. She reportedly wrote the tale from her room at the Hotel Illa d'Or.
The town is a former fishing village. Today, the lively harbour sits alongside two beautiful sandy beaches. To the north is the magnificent coastal Pine Walk Promenade, a sought-after location for properties.
At Balearic Properties, we have over 20 years' experience in the Mallorcan property market. We're proud to be the exclusive partner of Savills in Mallorca, meaning we have an extensive range of properties on offer. For more information about how we can help, please contact us or browse our portfolio.