Mallorca is known for its gorgeous scenery, but those in the know head to the island for its stunning hotels, too.
2020 was a difficult time for tourism, but that hasn't stopped these new luxury hotels from springing up in Mallorca.
With boutique rooms, beautifully renovated barns, luxury villas, and rustic hidden retreats, these hotels make Mediterranean holidays unforgettable.
Can Ferrereta, Santanyí – Opened spring 2021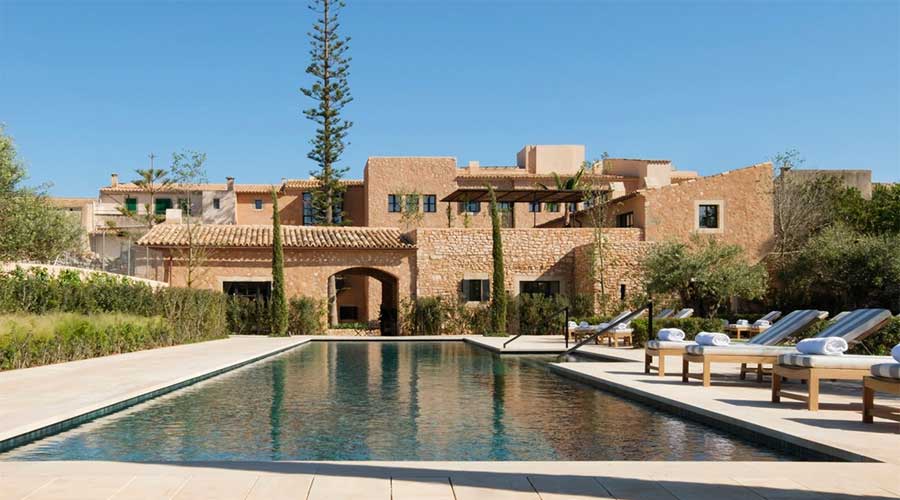 You might have spotted this new hotel in Vogue or Forbes. Can Ferrereta is a 17th-century manor house turned luxury hotel nestled in the traditional town of Santanyí. The hotel echoes the region's natural beauty, incorporating contemporary décor that has a traditional twist.
Vogue describes Can Ferrereta as "[aiming] to get guests completely immersed in the laid-back Spanish luxury". With 32 rooms, a restaurant serving fresh and seasonal Mediterranean dishes, two swimming pools, magnificent gardens, and a spa, guests are set for a memorable stay.
Son Bunyol, West Mallorca – New developments in 2023
Richard Branson's Son Bunyola estate stretches across 680 acres on the northwest coast of Mallorca. At present, three renovated traditional villas sit on the land. These villas offer guests a luxury hideaway surrounded by vast greenery, mountains, and seemingly endless coastline.
Virgin Limited Edition recently confirmed that they have been granted permission to develop a Manor house on the estate. They told the Mallorca Daily Bulletin that the plans will see the property transformed into a little luxury hotel with 29 bedrooms, opening in Spring 2023.
Nivia Born Boutique hotel, Palma – Opened May 2021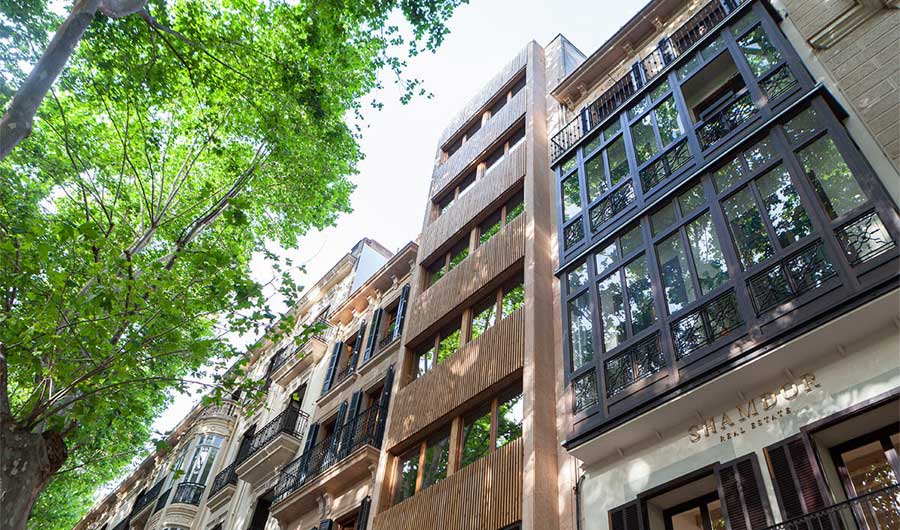 Nivia Born combines the luxury of five-star service with the quirky spirit of an independent boutique hotel. The building was once owned by the airline Iberia, and little elements of its history have been included in the hotel. On the seventh floor, guests can visit the 1950s-inspired Fly to the Moon lounge and see aviation memorabilia.
Nivia Born also boasts a rooftop complete with comfortable hammocks and exclusive views over Palma. Guests staying a little longer can take advantage of the hotel's discounts on stays over four nights.
Concepcio by Nobis, Palma – Opening June 2021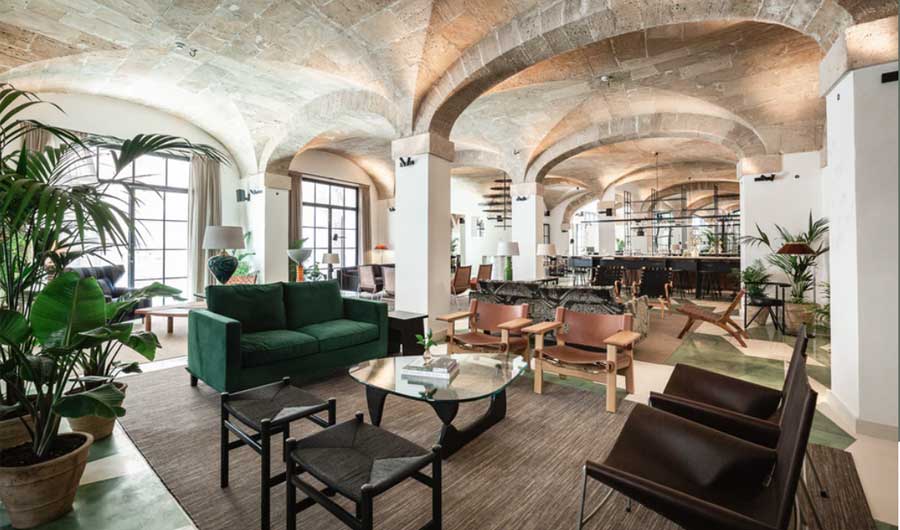 Sitting between Old Town and Santa Catalina, the hotel's building dates back to 1576 and was once a soap factory. Today, Concepcio by Nobis has 31 rooms and suites which echo Swedish design, with minimalist modern furnishing and bursts of colour.
A real highlight of the hotel is its terrace. Guests can relax surrounded by local plants, loungers, a pool, and lush gardens, which create what the owners describe as "a distinctly Mediterranean feel".
Four Seasons Hotel, Formentor – Opening 2023
The Canada-based Four Seasons group are opening their first Mallorcan site at what was formerly the Formentor Hotel. The new Four Seasons hotel will have 110 rooms and suites, each with a balcony. The rooms should have stunning views, too. The site sits at the edge of a vast woodland near the sea and is nestled between two spectacular mountains.
The beach is just a few minutes away and there are plenty of activities, restaurants, and a pool to keep guests entertained onsite. At a nearby vineyard, guests will be able to take part in exclusive activities, including farm-to-table events.
El Vicenç de la Mar 5*, Cala Sant Vicenç – Opening spring 2022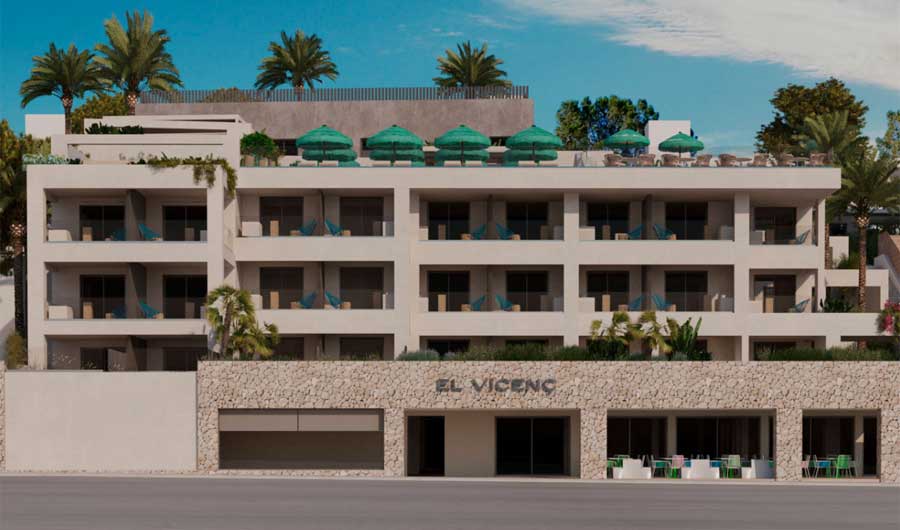 The owners of the well-known El Llorenç Parc de la Mar 5* in Palma will soon welcome guests to their latest hotel. The brand-new hotel is in a gorgeous area of Cala Sant Vicenç, near several beaches and just a few kilometres from Pollensa.
El Vicenç de la Mar will have 35 rooms, a beautiful rooftop terrace, restaurant, spa, and gym. There will even be a library, two meeting rooms, and a poolside bar/bistro.
The hotel markets itself as "the perfect excuse to let yourself be carried away by the essential pleasures of Mediterranean life".
Kimpton Hotels, Santa Ponsa – Opening in 2022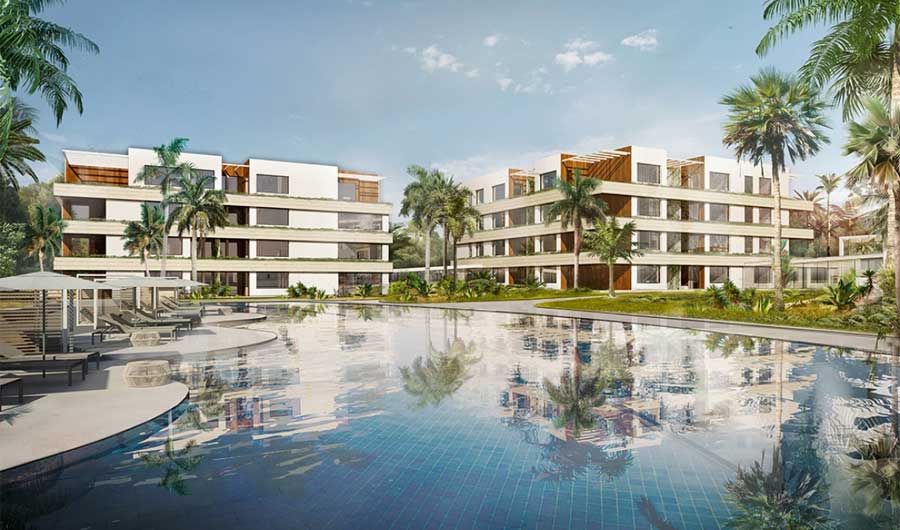 A new Kimpton hotel is set to open in Mallorca at the former site of the Santa Ponsa Country Club. The hotel will reportedly have 79 rooms, sitting next to Santa Ponsa Golf Club.
Kimpton is owned by the British InterContinental Hotels group, and currently runs 77 hotels across 55 cities. Although there isn't much information on their new Mallorcan offering, guests should expect the laid-back, luxury experience that Kimpton is known for.
Our guide to visiting Mallorca
Here at Balearic Properties, we've been in the Mallorcan real estate industry for over 20 years. Our portfolio is made up of beautiful properties around the island, while our sister company, Balearic Villas, specialises in luxury holiday villa rentals.
We work with our customers to find the perfect property for you. Simply browse our latest properties or send us a quick message. One of our multilingual team will get back to your shortly.