It's a well known fact that Mallorca boasts some of the best restaurants in the Mediterranean. Whether it's traditional Spanish cuisine, Michelin-starred, international cuisine, or simply a tasty pizza, you really are spoilt for choice.
But with such a beautiful island to explore and enjoy, isn't it something just that extra bit special that makes us go on a hunt for a restaurant – not only for good food, but with a great view as well?
Here we take a look at 10 restaurants in Mallorca that offer 'dinner with a view'.
Kingfisher Restaurant, Puerto Soller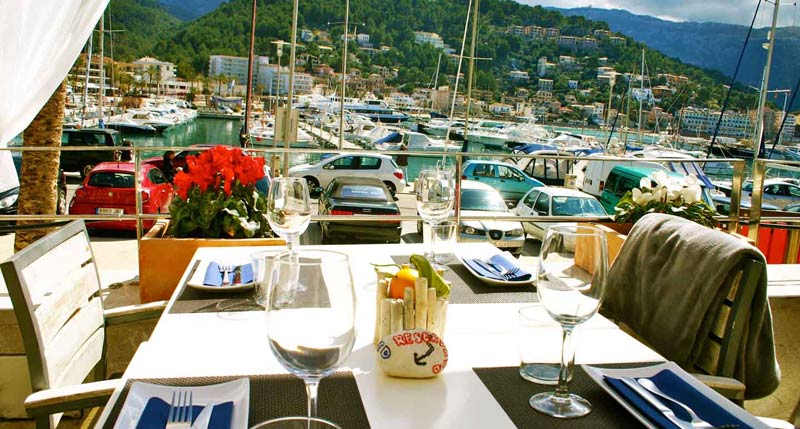 There really is something special about dining 'al fresco' overlooking boats bobbing around on the clear blue waters in Mallorca. Well, Kingfisher Restaurant in Puerto Soller is a great place to do just that – particularly if you like seafood. It has just a small seaside terrace with a few tables – but the view is so peaceful, so pretty and enjoyable overlooking the famous harbour of Puerto Soller.
Kingfisher's policy is 'honest cuisine' with the focus always on customer satisfaction. Don't forget to ask for the home-made lemonade!
‪Calle San Ramon de Penyafort 25, 07108 , Puerto Soller
+34 971 63 88 56
Illeta, Camp de Mar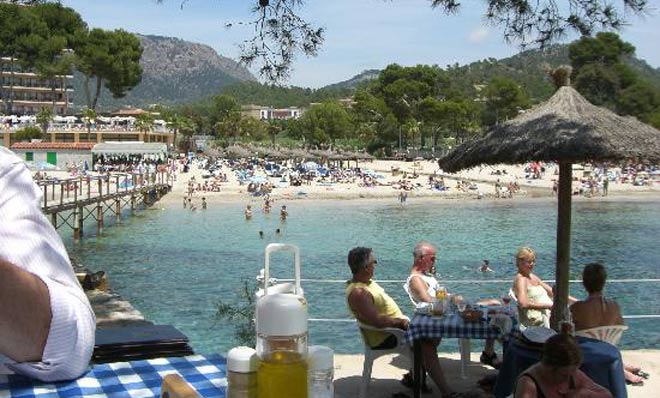 Not so much 'by the sea' but 'in the sea' is the main attraction of Restaurante Illeta in Camp de Mar. The unique thing is that you enter the restaurant via a small wooden bridge which extends out from the seashore onto the tiny island that houses it! A great place to take in the lovely coastal views and enjoy the traditional Mallorcan seafood and other dishes on offer. In high season, make sure you book in advance as the place is very popular.
‪Urb. Camp de Mar, S/N, Camp De Mar
+34 971 23 58 84
Santuari de Cura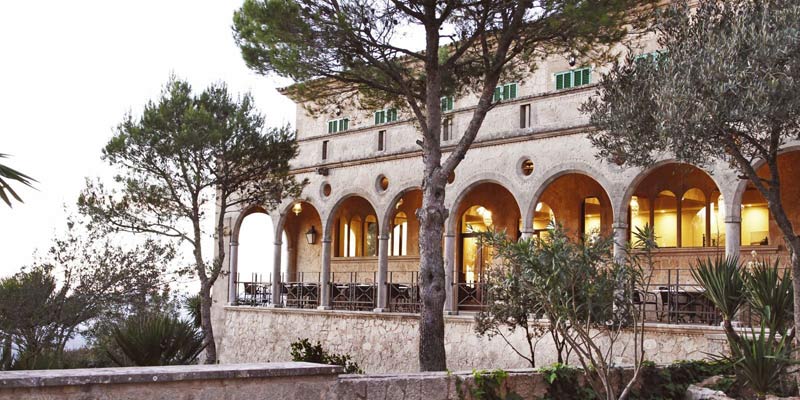 Talk about a room with a view! This must be one of the most spectacular places to dine in the whole of Mallorca. A former monastery, Santuari de Cura is situated on top of a small mountain called the Puig de Ranea, 550 meters above sea level. As you can imagine, the views over the central plains of Mallorca are breathtaking. And the food is pretty good too, as is the extensive wine list. Mallorcan dishes such as frito mallorquin and suckling pig are a speciality of the restaurant.
‪Puig de Randa, 07629,
+34 971 120 260
www.santuaridecura.com
Es Grau, Estellencs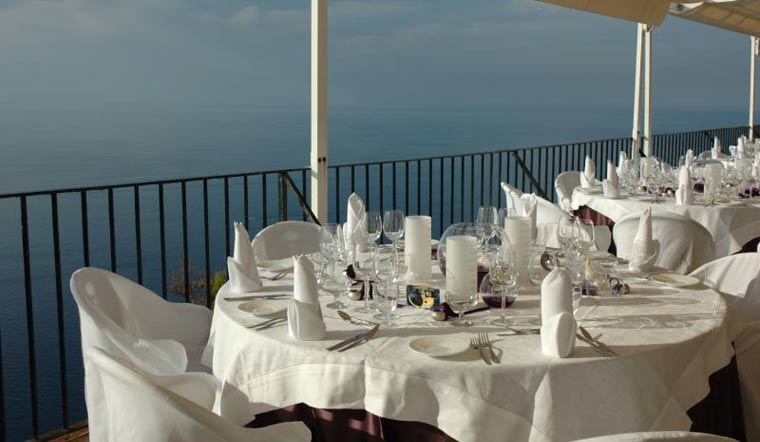 The Tramuntana mountain range is one of the highlights of any visit to Majorca. And while driving round seeing the sights, why not stop off for lunch at Es Grau, just outside the pretty village of Estellencs. The stunning location on top of a cliff provides the most sensational views over the crystal clear waters of the Mediterranean. Great terrace outside for al fresco dining serving traditional Mallorcan dishes at reasonable prices.
‪Ruta de Andratx a Es Fornells | Carretera Andratx,
+34 971 61 85 27
www.restaurantesgrau.com
Ca's Patro March, Cala Deia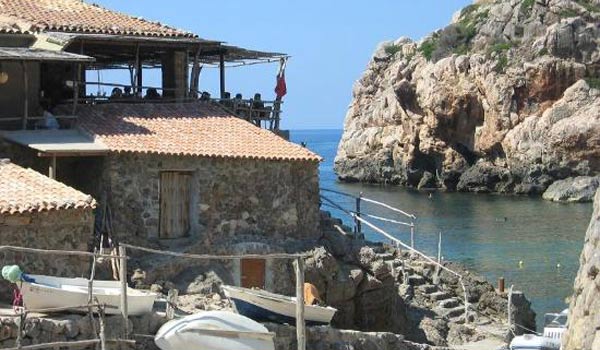 The view from this restaurant is so good that it was chosen as a prime location for the TV series 'The Night Manager'. Due to its stunning location overlooking Cala Deia, it's no surprise that fish dishes are a speciality here.
Carved into the seaside cliffs, Ca's Patro March is an excellent family restaurant by the sea.
‪Cala Deia, Deia
+34 971 63 91 37
Salvia Restaurant, Soller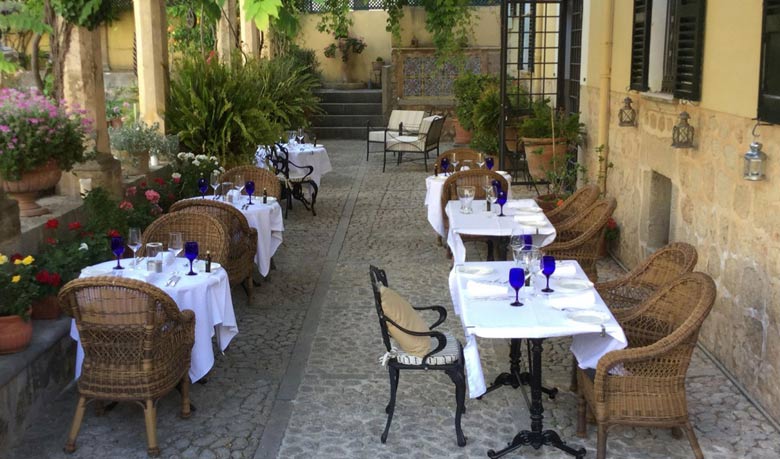 The lovingly restored Hotel Salvia is the location for this splendid restaurant situated in the picturesque north Mallorcan town of Soller. Originally a 19th century Majorcan mansion house, (fine) dining out on the restaurant's terrace overlooking the Soller valley, is something to be savoured. The food, service and ambiance is, as you would expect, first class.

‪Calle Palma 18 | Soller, 07100, Soller
+34 971 63 49 36
www.hotelsalvia.com
Rocamar, Port d'Andratx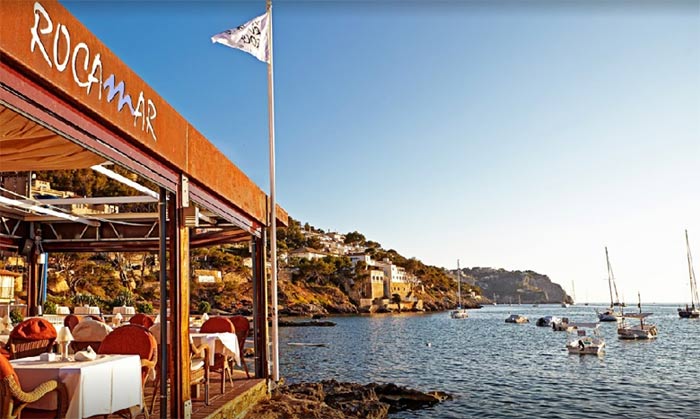 Port Andratx is one of the most up market, desirable places on the whole island of Majorca. So naturally you would expect the restaurants to keep pace. Restaurante Rocamar is no exception: situated along the quayside of the port, it's great for yacht watching and people watching! The sunset views are so good here that you usually have to book in advance. Specialises in fish and seafood dishes with idyllic views of the mountains and the sea.
‪Calle Almirante Riera Alemany 27, 07157 Port d'Andratx, Majorca, Spain
+34 971 67 12 61
www.rocamar.eu
Restaurante Kaskai, Na Burguesa, Palma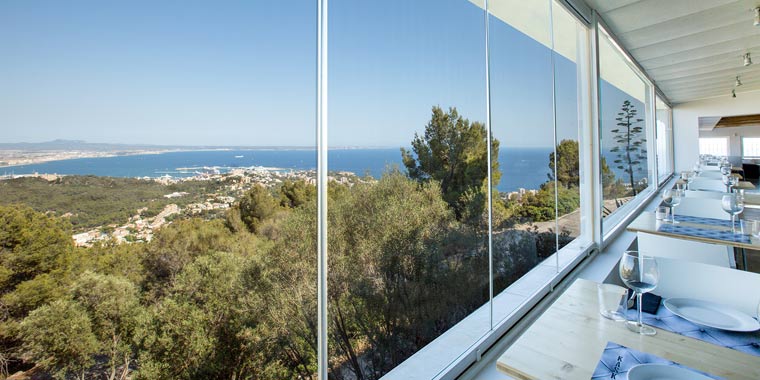 This rather chic, contemporary restaurant must surely offer the most spectacular views of the city of Palma and the bay.
Situated on top of a steep hill, it's a fabulous place to enjoy a special meal, whether on a sunny day or overlooking the romantic city lights at night. Freshly-prepared food and superb service are the order of the day. However, you do need a car or taxi to get here!

‪Camino Na Burguesa s/n | Mirador de Na Burguesa,
+34 971 40 17 96
www.kaskai.es
Mood Beach – Costa d'en Blanes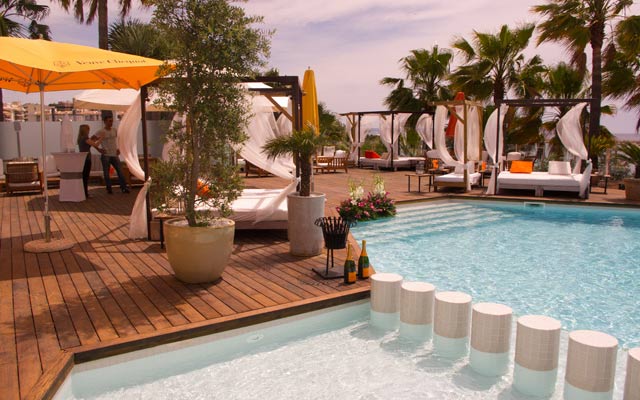 Part of the Mood Beach Club complex, this restaurant located near the exclusive marina of Puerto Portals, offers fine views of Palma Bay. Brilliant white is the overall colour scheme here, and you can use the swimming pool if you wish. Whether its a hearty lunch or a romantic candlelit dinner, Mood Beach is the perfect chill out zone.
‪Ctra. Palma-Andratx Km 11, Costa D'en Blanes
+34 971 67 64 56
www.moodbeach.com
Nawaab, Cala Major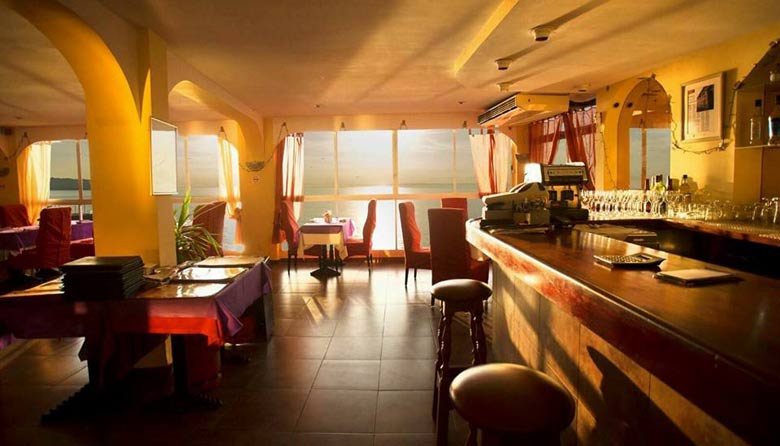 What would be the point of visiting Mallorca if you didn't have at least one curry! The fact that 'curry with a view' is very much on the menu here, is a real bonus. Overlooking Palma Bay, make sure you get a window seat or a table on the small terrace outside. Fabulous maritime views and Indian dishes at a reasonable price. Princess Diana once ordered a takeaway from here. True!

‪Avenida Joan Miro 309, 07015 Cala Major
3497140169
www.facebook.com/Nawaabmajorca/
At Balearic Properties we would be delighted to help you find your dream home for sale in Mallorca. If you would like any information or advice please feel free to contact one of our friendly, helpful property professionals. Or simply give us a call on +34 971 53 22 21