The Darling of the Med.
The western zone of the Mediterranean has always been famous for attracting the rich, beautiful, and famous cliques. In former years locations such as the Côte d'Azur with St. Tropez, Monte Carlo, or San Remo representing the Italian Riviera stood out as the places to see and be seen, their unique standing unchallenged. For the international jet-set scene it was a kind of obligation to spend holidays in one of these hotspots, preferably in their own Mediterranean villa for sale. The names of these famous locations were not only synonymous with immense wealth and luxury in all aspects, but also the stunning scenery was appreciated by these spoilt people.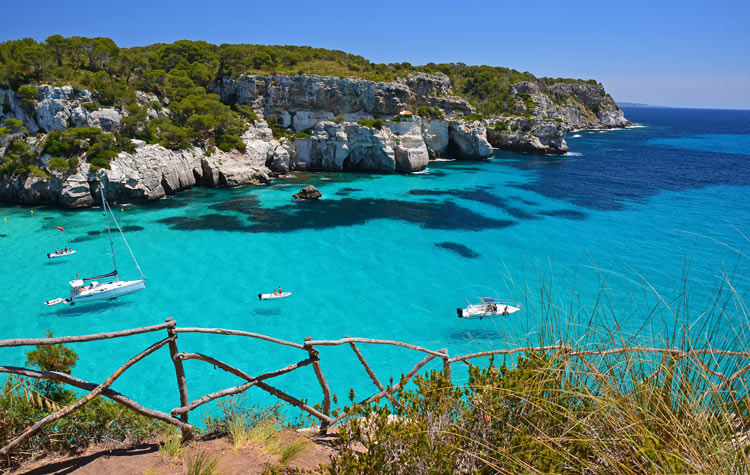 There may be other "paradises lost" in the Caribbean or the Pacific, but the Med's. combination of elegance and sheer beauty is impossible to top. Even going back to the ancient Greeks and Romans, who took it in turns to dominate the Med., culture and civilised living were a must. Stunning historic sites, the remains of villas and temples bear witness to the immense wealth and amazing lifestyles enjoyed even thousands of years ago around the Med.
Today, the French and Italian Rivieras have reluctantly taken a back-seat to the rising star on the Mediterranean jet-set scene: Mallorca. The island might have been snubbed as the "island for cleaner-women" during the late 70s and 80s by the snobbish German travel scene, nowadays this beautiful island has emerged as the number 1 hotspot. Hard to believe for some die-hard "la Côte" fans, Mallorca has overtaken the previously mentioned glamour locations as the island with the best lifestyle, most beautiful and diverse landscape, and the top property investment hotspot. To own a luxury villa or penthouse apartment for sale on Mallorca overlooking one of the numerous glittering bays has turned from a desire into a "must-have" now!
Mallorca offers it all
Unbeknown to many, celebs have been coming to Mallorca for ages, starting off with the famous Chopin / Sand duo, who fell in love with the mountainous region during their stay in Valldemossa. Famous poets followed in Robert Graves footsteps; authors such as Agatha Christie found inspiration here; politicians followed on the heels of Winston Churchill (admittedly some notorious ones!); last but not least painters and musicians of the classic and rock scenes wrote some of their most famous masterpieces on the island – the list of celebrities is endless and continuous to grow nowadays.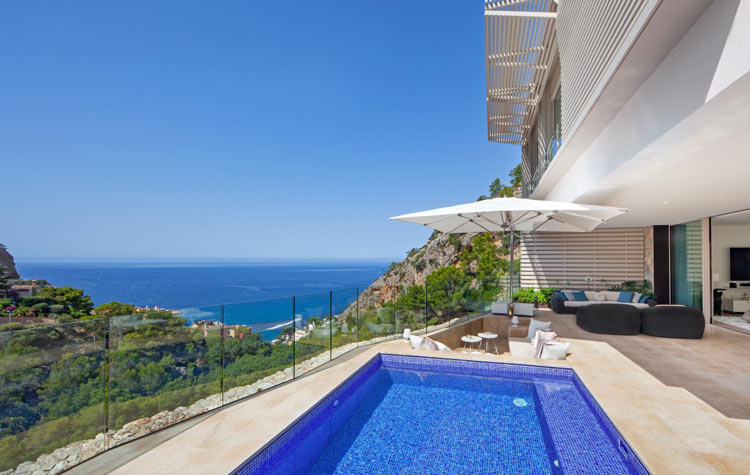 Inspired by the island's natural beauty and fantastic light, many artistic people decided to settle here permanently, so they bought a town house for sale in one of the pretty villages such as Pollensa or Sóller. Those seeking more peace retired to the countryside, where they bought an authentic Mallorca finca for sale and found pleasure in living a simple, yet traditional lifestyle, as opposed to a glamourous one in say Palma.
Yachting Scene
Over the years, the secure and picturesque bays on the island have invited an increasing amount of yachts and fashionable marinas have popped up all over at a rapid pace. For many years, the Club de Mar in Palma was the hotspot to arrive and berth your boat, in the 70s and 80s the jet-set was led by the likes of billionaire Adnan Khashoggi, who brought international glamour to Palma and really started Mallorca's discovery and rise to popularity. Famous chefs decided to open restaurants on the island, inspired by the fantastic local products literally on their doorsteps. This started a sheer boom of superb eateries opening all over, competing with their delicacies to attract the discerning clients. Visitors and locals alike are really lost for choice when deciding where to go and eat out, and many Michelin-starred restaurants are based here on the island – the largest, on-spot concentration in Europe.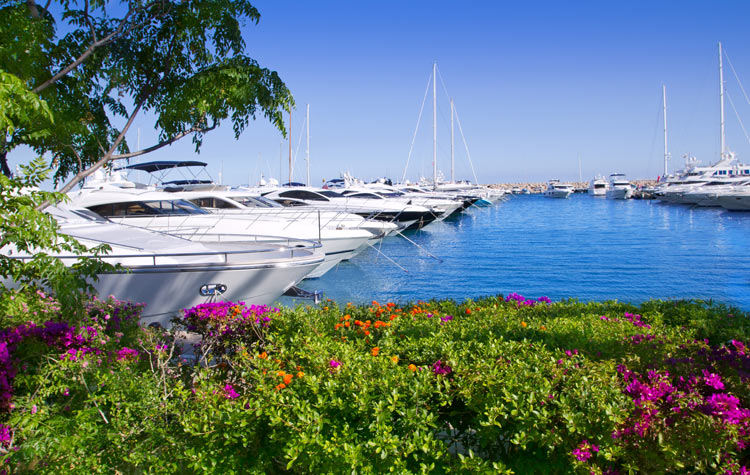 The Club de Mar has retained its status as berthing place for super-yachts, but Puerto Portals, Port Adriano and Puerto Andratx are serious contenders, competing in terms of which location has the most glamour. Port Adriano having only joined the super glamour locations in recent years, the famous designer Phillipe Starck was a major force behind this fabulous marina. Each year Mallorca attracts the most spectacular super-yachts and richest entrepreneurs on earth, many of these high-tec vessels being owned by the new-rich Russian oligarchs. It has become fashionable to stop by on their Med cruises, last year the pack was led by Jeff Bezos, the emblematic Amazon boss, who entertained an array of VIPs on board and generously allowed the local press to take photos, which also served as a good publicity stint for his company.
Boat and Property
Many yacht owners have decided to buy a trendy pied-à-terre to complement the accommodation on board. Some opt for a villa for sale in Andratx or Calviá in order to be close to their home marina, others may decide that a luxury penthouse on Palma's famous Paseo Marítimo with stunning views over the whole bay is the best property investment for them. Apart from being an accommodation option as holiday home or permanent residence, a Mallorca property is highly regarded as a solid investment that also generates a good income if rented during the holiday season.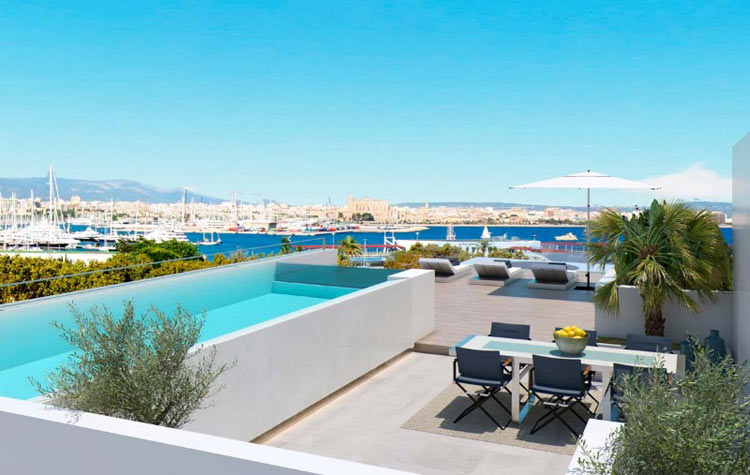 Mallorca has certainly worked hard to take away the number 1 position from the previously mentioned locations and is not resting on its laurels, either. Fashionable brands are permanently opening designer stores either in Palma or another trendy area, there are actual waiting lists of designer labels wanting to rent or buy a store in one of the top high streets. To name a few: Gucci, Prada, Louis Vuitton have all managed to secure stores in Palma's best shopping district. It has become fashionable to hop over from the UK for a long weekend and go shopping in town, they say a cheaper outing all in all than a shopping spree in London! So, owning a trendy apartment or house for sale in the desirable Santa Catalina quarters of Palma is the icing on the cake for serious shoppers.
Contact us for any information you may require regarding our property portfolio or the purchase process. Our sales experts are looking forward to hearing from you, the internet is great, but you only get the complete picture by coming over and viewing with one of our colleagues!