Unique property for sale in Mallorca with over 100 ha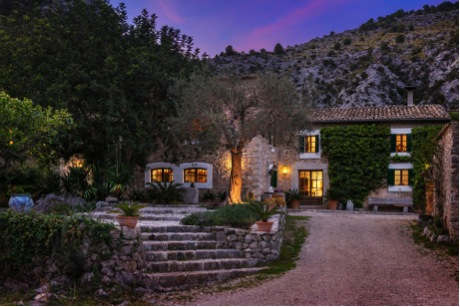 A piece of authentic Mallorca is now for sale
This majestic country house for sale in Mallorca boasts massive 115 hectares, or over 1.1 million m2 of land and is located in the heart of the Tramuntana mountain range, close to one of the most original villages on the island, Selva. See the full property for sale details HERE
Declared by the UNESCO a World Heritage Site , the Serra de Tramuntana is now one of the most desired destinations in Spain. This impressive mountain range – almost 92km long – forms the backbone of Mallorca, and stretches from Puerto de Andratx in the southwest to the Cap de Formentor , near Pollensa, in the beautiful north of the island.The panoramic views of the mountains and surrounding landscape are simply awesome.
The fantastic Mallorcan landscape is the international community's acknowledgement of the near-perfect symbiosis between the action of human beings and nature, which has occurred for centuries, resulting in a monumental work by humans in which culture, traditions, aesthetics, spirituality and identity are merged.
This amazing country estate for sale in Majorca offers nature lovers complete privacy and a peaceful lifestyle, hard to match even on Mallorca! They will enjoy the unique privilege of living in this stunning, private environment and having direct access to some of the best hiking trails on the island.
The house itself was built in 1794, and although it was renovated in 1974, it still has the historic atmosphere of yesteryear that is hard to find nowadays. The interior retains its original appearance emphasised by stone walls in some reception rooms, rustic terracotta floor tiling throughout, bricked shelving and sturdy wooden beams in many room ceilings, especially in many reception areas.
All rooms in this superb Mallorca country house for sale, including all bathrooms have very generous dimensions, the living area totals approx. 700m2, and the separate guest house further 200m2.
The main house has 6 bedrooms and 4 very large bathrooms, many living rooms provide enough areas for family get-togethers or personal privacy. The finca is equipped with air conditioning units in the bedrooms and central heating.
Natural stone terraces that also surround the pool are dotted all around the mighty house and stone paths lead to various areas in the garden. 2 streams wind their way peacefully down the mountains and through the grounds. Here, in this splendid Mallorca country estate for sale hundreds of ancient, gnarly olive trees and aromatic fruit trees have thrived during the past centuries.
Unbeatable views from this property in Majorca
Adding to the romantic ambience of this exceptional Mallorca property, about 70 sheep graze happily here and wild mountain goats stop by regularly to visit.
The charm of this typical finca is simply unique; it is the precisely perfect property for those who appreciate authenticity and are looking for a piece of the original Mallorca.
See the full property details and further images  HERE
We invite seriously interested clients to contact us now and we will arrange a visit. This is certainly an extra-special country property for sale in Mallorca, here a lifestyle in tranquillity can be enjoyed like no-where else. No quite sure about the location Selva: check out the superb restaurant in the Hotel Son Ametler but book well in advance!
Popular Mallorca property searches:
Top 10 Country Homes for sale in Mallorca
Top 10 Large Estates for sale in Majorca
Top 15 Luxury Homes for sale in Mallorca
Top 5 Vineyard Properties for sale in Majorca