Pollença Finca / 6 Bedrooms  / 3 Bathrooms / Built size 772 m² / Plot size 20000 m²
REF: POL40224 / Price: 2,800,000 €
Country residence near the magnificent bay
Either way from this estate to the bay or Pollensa town is via a delightful country lane, where oncoming traffic is extremely rare. In fact, cute donkeys might stick their heads over a hedge and watch you as you make your way along. In other words, this stately country villa for sale in Pollensa is situated in a particularly unspoilt location, where you enjoy absolute privacy and tranquillity.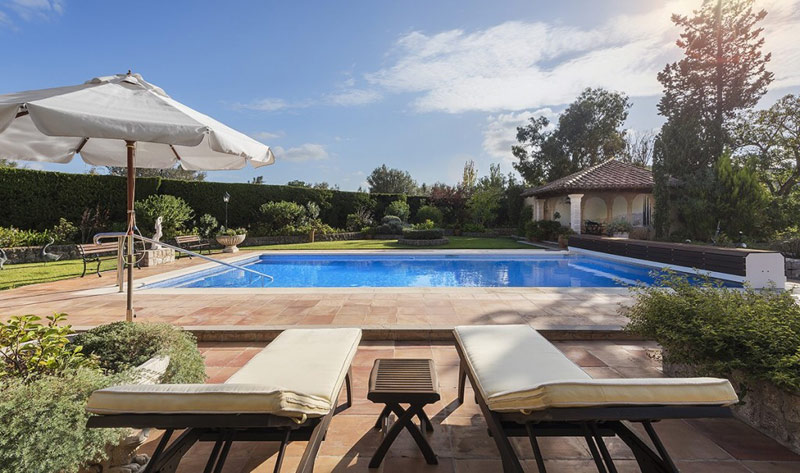 The villa is set on about 20.000m2 of private land so there are no neighbours in the immediate vicinity to disturb the blissful peace and, on the other hand, when you decide to party, there is no need to worry about the noise level, either! This is the perfect retreat for those who love the rural lifestyle and have the necessary "small change" to be able to live their dream of owning a finca in Mallorca.
The estate is simply spectacular
The stately villa is set in beautifully kept and cleverly laid-out gardens, with lawn areas, island flora and many special spots, which invite you to relax and enjoy a good book again now that you are on Mallorca away from the stressful every day life back home. You even become the proud owner of an olive grove and a pond! And anyhow, this wonderful Mallorca country property is a paradise where you can recharge your batteries and simply enjoy quality time with family and friends. The pool area is all about entertaining with a fantastic bar / BBQ area, ideal for dining al fresco and having a fun party – the kids will love it! Covered and open terrace areas around the villa for sale in Pollensa offer ample seating space, essential here in Mallorca where you spend more time outdoors than indoors during the warm months of the year.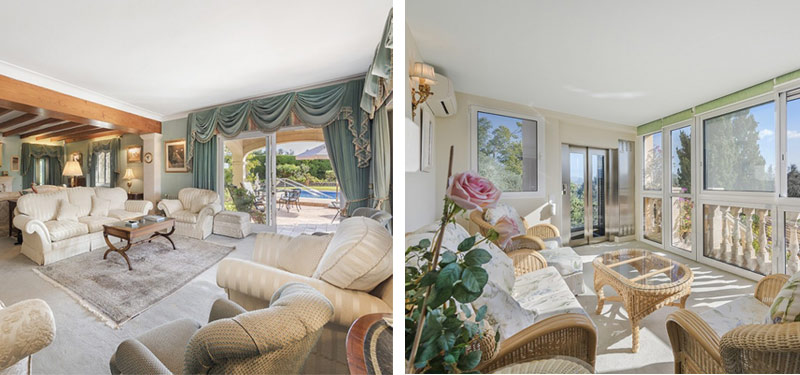 The country house in Pollensa offers a very spacious interior; all rooms have generous dimensions whilst still being cosy at the same time. Upon entering a corridor leads to all rooms on the ground floor. On one side is the modern and recently renovated kitchen, with an island in the centre and a practical dining area in addition to the official dining room. The living room is very spacious, it has various seating areas, a fireplace and outdoor access to the heated pool and huge covered terrace. There is a second living area, which could be used as an additional bedroom.
To reach the master suite on the first floor you simply get into the lift either from the outside or the living room. The master suite has two sleeping areas, a living room, walk-in closets and a complete bathroom. Two more bedroom suites are to be found on the first floor. There is an independent guest house on the grounds with two more bedrooms, two bathrooms, a kitchen, dining room, living room and a courtyard. The house is perfect for either guests or staff.
A long road surrounded by tall trees and beautiful gardens leads to this country property for sale in Pollensa. The current owners make sure that the gardens are immaculately maintained. A large car port and a triple garage, in addition to the space on the grounds, accommodate sufficient vehicles.
There is a unique atmosphere in Pollensa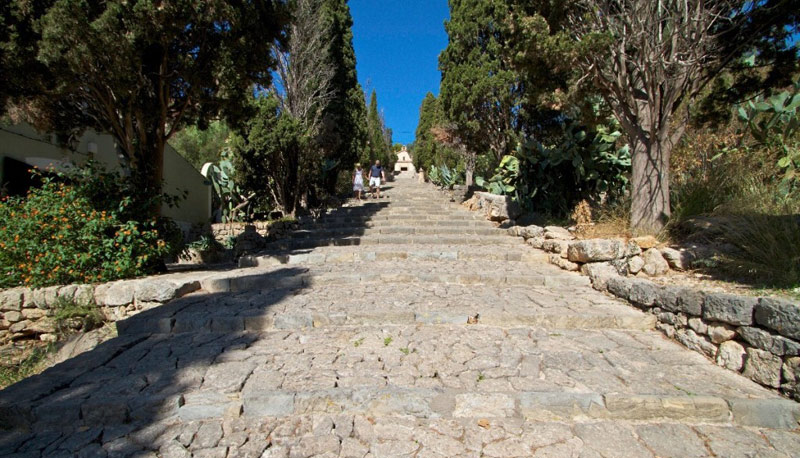 This region simply has it all. The dramatic Tramuntana mountain range as backdrop, a spectacular landscape that never looks tired during the hot summer months. And 2 delightful sea-side resorts with lovely beaches are a car-hop away. In fact, many agree that Pollensa is the best region for practising sports such as hiking, cycling, golf and water sports. Art exhibitions, concerts and other cultural activities go on throughout the whole year in Pollensa. There are so many exquisite restaurants in this region that you are spoilt for choice, where to dine in the trendy town or on the sea front in Puerto Pollensa. There is never a dull moment in Pollensa!!
This Mallorca estate is an absolute jewel located in a very desirable area. We love Mallorca fincas for sale in Pollensa, starting with the drive down the charming lanes to reach them and then there is always a magical and peaceful feeling about Mallorca's countryside which the fincas also convey. Providing you love country life, we would like to share this experience with you, please call us it will be our pleasure to show you this amazing Mallorca finca!