For many years, the Balearic Islands have been a major destination for those of us who want to enjoy a special holiday in the sun or even to buy a property there.
But which of the Balearic Islands is the best? We've decided to discount the party island of Ibiza for now and concentrate on the two 'M's: Majorca and Menorca.
So which is the better of the two? Well it all depends on what you are looking for. Sun-kissed cove-like beaches? Turquoise waters ideal for swimming and watersports? Superb Mediterranean cooking? Beautiful countryside? Architecture and culture? Well the truth is, both Mallorca and Menorca offer all this and more.
Introduction to Mallorca and Menorca
Both islands have a virtually identical climate with roughly 250 days of sunshine and little rain, and both have a rather chilly two months – January and February.
But there are subtle differences between the two. So let's start with the jewel-like island of Menorca.
Menorca – the hidden gem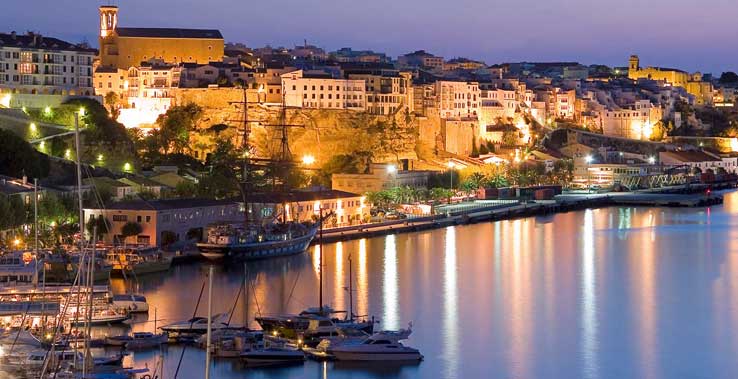 The obvious difference between Menorca and Mallorca, is that Menorca is much smaller. It's also a bit of a hidden gem as its neighbour, Majorca, is much better known internationally.
As you can imagine, Menorca is far quieter than its bigger neighbour. For a start, Mallorca's capital, Palma, has four times as many residents as the whole of Menorca!
Menorca is not as ritzi as Majorca. You won't find many billionaires posing on their superyachts. You won't find loads of boozy young blokes and women fighting over a bottle of HP Sauce. And you want find crowded beaches, buses and bars.
Instead you'll find a gentle, extremely pretty isle, a fascinating history and culture, and a healthy respect for the environment. (Menorca was designated a UNESCO Biosphere Reserve as far back as 1993.)
Maybe you didn't know but Menorca was once a British naval base, having captured the island during the War of Spanish Succession in 1708.
Also, being much quieter than Mallorca, Menorca is perfect for family holidays and very safe for children. Particularly in the south of the island you will find gorgeous white beaches ideal for swimming and sunbathing.
For spectacular scenery however, the rugged northern coastlines dotted with small inlets, coves and bays are breathtaking, and a big hit with watersports enthusiasts.
Hikers will enjoy the interior of the island as there are some beautiful walks to be had, as well as some pretty little, rather timeless, villages to visit. (Just one thing though: Menorca does not have any mountains!)
The island's capital is Mahon (interestingly, this is where the word 'Mayonnaise' comes from). It's a lovely town, rising step above the lively harbour front. Look out for traditional whitewashed or colourfully-painted houses.
On the opposite coast lies Menorca's second city and port, Ciutadella. It's a culture-vulture's delight with (yet another) cathedral and restaurants serving up tasty Mediterranean food. In Menorca's interior you'll also find some lively morning markets selling fresh local produce.
Mallorca – the star of the Mediterranean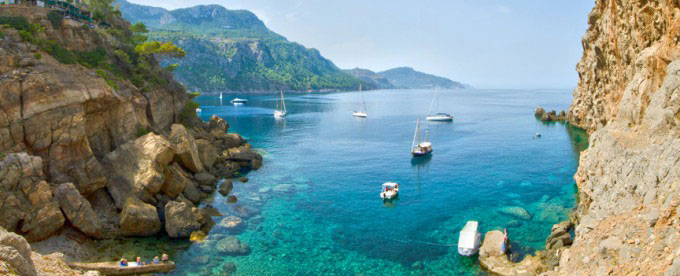 Mallorca' or 'Majorca'? Whatever your choice of spelling, you can't ignore the sheer magnificence of this amazing Mediterranean island. Gorgeous cove-like sandy beaches – tick. Crystal clear waters – tick. Stunning mountains and valleys – tick. Superb warm climate – tick. Fascinating culture – tick. Fabulous food – tick. Add to this a little indulgent celeb spotting and you see why Majorca is one of the most popular holiday destinations in Europe.
Mallorca really does have everything. If you're the active type, there are trails to hike, watersports to enjoy, golf galore as well as tennis (Wimbledon champion Rafa Nadal hails from the island). And if cycling's your thing, you may well spot Sir Bradley Wiggins getting on his bike as he often trains on the island.
Some of Mallorca's beaches are the best in the world. The island is dotted with small, cove-like inlets sheltered from the wind; the turquoise waters a sheer joy for swimmers.
Mallorca's spine is the breathtaking Tramuntana mountain range (a World Heritage site no less) in whose shadow lie delightful small towns such as Soller, Valldemossa, Alcudia and Deia.
Entertainment in Mallorca is better than Menorca
Lovers of culture are well catered for too. There are still many architectural reminders of Majorca's Moorish past, particularly Palma's Arab Baths. Roman settlements can also be found. The writer Robert Graves lived here for many years, his Deia home is now a museum. Picasso's pal and fellow surrealist artist, Joan Miro, lived worked and died here. His studio on the edge of Palma is now a museum and art gallery. Chopin lived and worked here, and John Lennon wrote the lyrics to 'Imagine' in one of Palma's top hotels! To say the island is 'inspirational' is no exaggeration.
And then there's Palma, the island's capital. It's so breathtakingly beautiful. Its small, compact size means you can explore it on foot. If you're looking for gourmet restaurants, lively bars, chic boutiques, great galleries and museums, superb department stores and magnificent architecture (such as La Seu, Palma's gothic cathedral), then you really are spoilt for choice.
But then there's Magaluf (only joking!). Yes we know its infamous for boys and girls behaving badly, but at least the behaviour is confined to a tiny area, leaving the rest of this beautiful island all yours to enjoy. (Actually, the resort is currently being cleaned up and being reinvented as an increasingly upscale holiday destination.)
Choose Menorca for a relaxing holiday
So what's it to be? The peace, prettiness and tranquillity of Menorca, or the sheer magnificence of Mallorca? Yes it's a tough one. But aren't you glad you have the chance to choose between these two splendid Mediterranean islands!
At Balearic Properties we would be delighted to help you find your dream property for sale in Mallorca or Menorca. If you would like any information or advice please feel free to contact one of our friendly, helpful property professionals. Or simply give us a call on +34 971 53 22 21