Stunning architecture Mallorca a its finest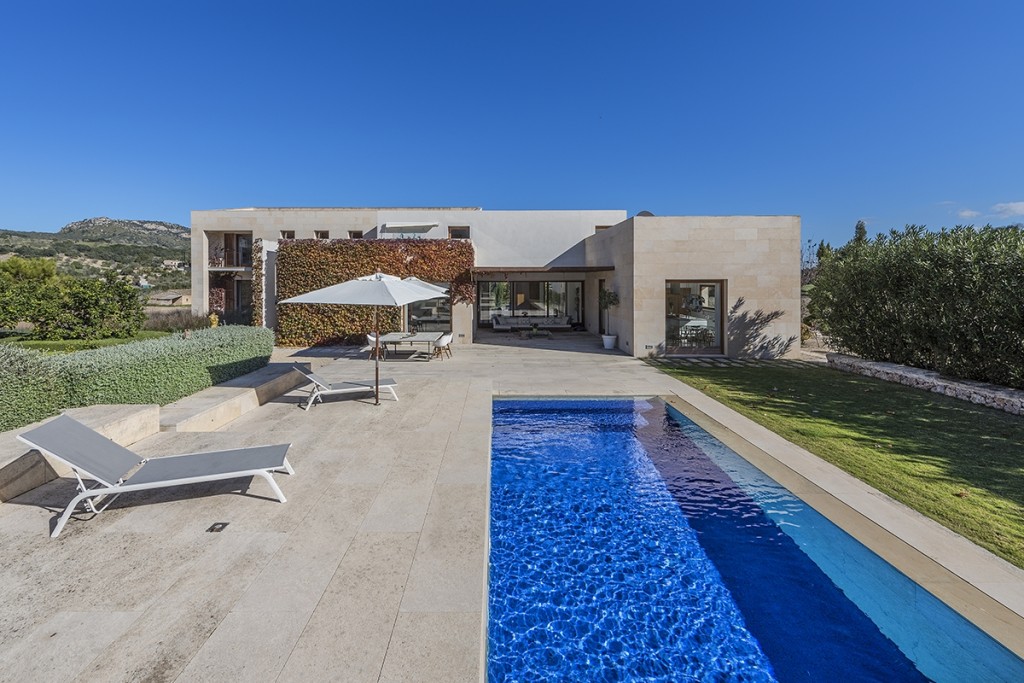 This country villa for sale in Mallorca not only is the epitome of what we can imagine a film star's residence should look like. Due to Mallorca's increasing popularity with the international film scene, this villa has frequently been requested and used for film shoots, which also generates an income if the future owner decides to continue with the filming tradition. Its privacy and unique aesthetic design are apparently attributes that film crews are looking out for on Mallorca. The villa is absolutely an extraordinary example of impressive contemporary architecture, one of Mallorca's leading architects has really gone to town here. Only the best of the best materials have been used for the construction and to appoint and furnish the interior. And whilst the villa sits in complete harmony within the countryside, it does strike an amazing and intriguing contrast to its natural surroundings.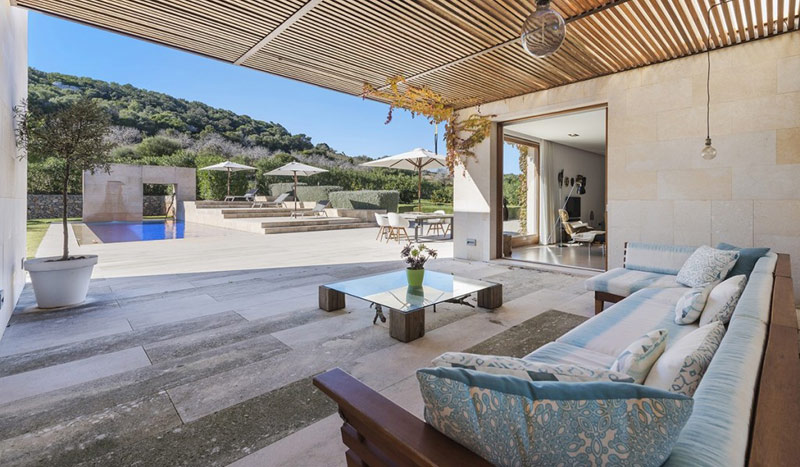 The Mallorca country villa for sale is not only a film location; it also produces up to 500 bottles of fine wine each year. The driveway is flanked by grape vines, a delightful way to approach the property! Immense attention to detail is evident anyway everywhere in and around the property. Trimmed cloud olive trees and cypresses adorn the entrance, emphasising the symmetrical lines of the villa. It currently has 4 main bedrooms with en-suite bathrooms. A fifth bedroom could be created if necessary. All rooms are spacious and breezy, floor to ceiling windows and sliding doors allow for the sunlight to flood in and interconnect in- with outdoors. The lounge areas invite to relax during the slightly cooler months of the years. The interior is elegant and noble; the villa's streamlined exterior design is followed through to the inside with complete harmony. Stylish wooden floor boards and tiles with under floor heating feature throughout this exceptional country villa for sale near Artà. This is a property that innovatively combines utility and incredible design in perfect balance. Every detail has been cleverly thought through; even the large pool is innovatively embedded in the grounds, flanked by elegant sunny terraces on split levels.

A tranquil and convenient location
This Mallorca villa for sale is tucked away in the charming countryside near the east coast. Whilst the surroundings might convey the feeling of being "in the middle of nowhere", the pretty village called Sant Llorenç des Cardassar with its fair amount of restaurants and shops is only five minutes away by car. The artists' town Artà which caters to a BoHo chic international scene and which boasts numerous craft boutiques and galleries is only another relatively short drive away.
Mallorca's second largest town, Manacor is at a 15 minute drive. This town offers a wide range of restaurants and cultural facilities. Manacor is world famous for its pearl factories and also furniture production. The whole area surrounding this outstanding country villa is ideal for nature lovers, hikers and cyclists who can follow the ancient paths. The coastline is dotted with delightful coves and romantic beaches that take your breath away. Water sports enthusiasts will find perfect conditions here on the east coast.
A 15 minute drive from this unique villa for sale near Manacor will take you to the famous Rafa Nadal tennis academy. Manacor's favourite celebrity and current world number one opened this excellent facility 2016.
Any country lover, who is a fan of contemporary architecture, must simply visit this extra special country property. It is unique, it is outstanding, it offers a supreme lifestyle and an elegant ambiance. We would love to show you the location and the exceptional property, call us in one of our Pollensa offices and let's talk about this villa; we will arrange an inspection with our agents.