Mallorca has delightful beaches, all with certain features that make them unique. But all are distinguished by great beauty surrounded by turquoise waters and wild nature in its purest form. There are hundreds of beaches and coves where you can enjoy the white sand or pebbles, many are hidden in valleys and ravines and finding them is similar to the search for a lost treasure. The sensation of enjoying these reclusive beauty spots and swimming in the turquoise sea is a must experience. It is is difficult to mention only five, nevertheless here are the favourites:
1. SA CALOBRA – TORRENT DE PAREIS, ESCORCA
Two walls of red stone in the blue sea
The beach of Sa Calobra – Torrent de Pareis is an unusual beach, different from the other beaches in Mallorca. It has a peculiar charm and beauty that make it unique and number one on the list and has been a place of inspiration for many artists.
Upon reaching the beach we find a cove in front of a restaurant, but we have to follow the way down and after passing through a tunnel we reach the famous beach of Sa Calobra and Torrent de Pareis. The small cove is just 30 meters between two cliffs of brown coloured stone forming one of the most beautiful landscapes in Mallorca. The echoes of a splash in the calm water or a low voice bounce off the walls of the charming creek. The place is just magical.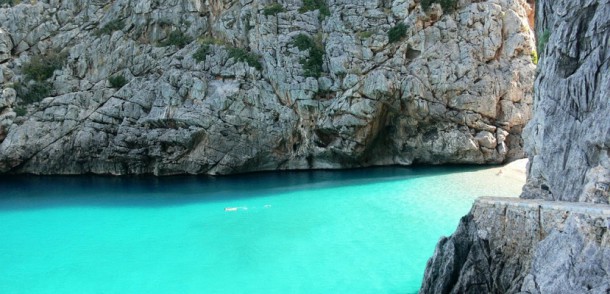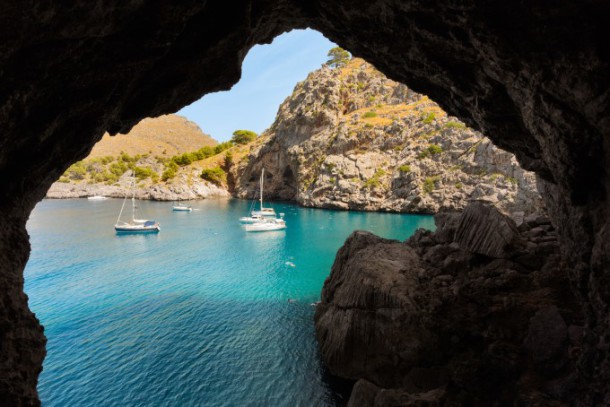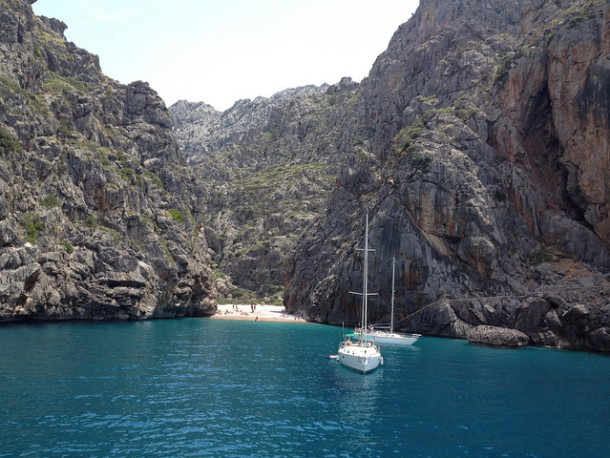 2. CALÓ DES MORO, SANTANYI
A little paradise hidden in a idyllic location
Caló des Moro is a small unspoilt cove surrounded by caves where you can dive into the clear water. It's extremely popular among visitors and locals alike, the surroundings are simply stunning and the water looks like a pool set in pure nature.
Amongst the reasons for its popularity are the white sand and turquoise waters, but above all, its natural setting surrounded by small cliffs and shrubs, it is a dream location. The access road is not easy to find but one is rewarded by swimming in translucent waters and a stunning setting: the pines and shrubs offer shady places to rest and escape the summer heat.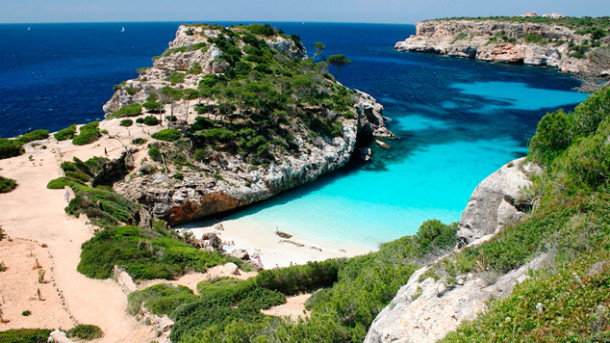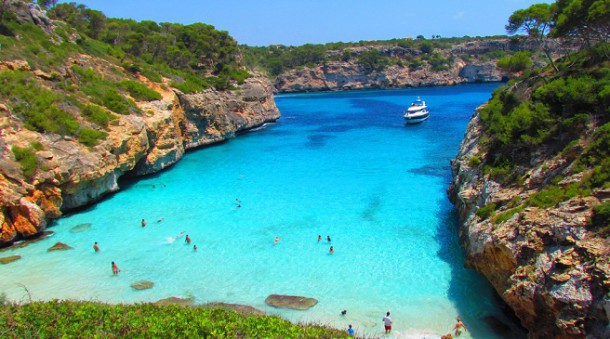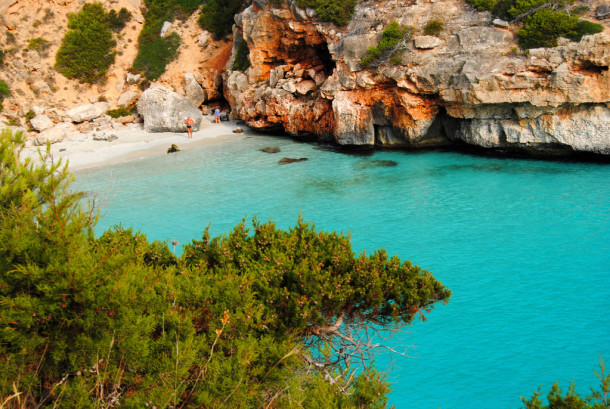 3. FORMENTOR BEACH, POLLENSA
Mountains, clear turquoise water and pure nature
Formentor is one of the most beautiful bays in Mallorca, it is formed by the end of Sierra de Tramuntana mountains and its clear waters are sensational. A major reason for its popularity is the Hotel Formentor, celebrities from all over the world have stayed there or even have bought a property attracted by the beauty of its surroundings. This little paradise is hidden in the north east of the island, near to the bay of Pollensa.
Cala Formentor is surrounded by an extensive landscape laden with pine trees typical for the island, it is an idyllic place. It also has many facilities; bars, restaurants, parking, a landing jetty for boats arriving from Puerto Pollensa. Watersports lovers can choose from a variety of activities: kayak, jetski, sailing … It is a perfect balance between tranquillity and leisure.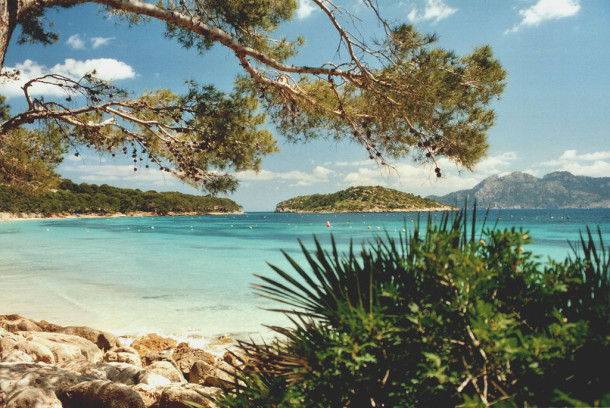 4. PLAYAS DE MURO, ALCUDIA BAY
Wonderful white sandy beach in the north of Mallorca
Alcudia Bay has several beaches and one of them is the Playa de Muro, it's the largest. Playa de Muro starts at the end of Alcudia beach and stretches to Ca'n Picafort, it extends over 7 km of fine white sand and offers an abundance of watersports: windsurfing, kite-surfing, catamarans, sailboats… The flat beach is ideal for these sports and the sea becomes quite shallow closing in on it.
Its sheer length invites visitors to take long walks on the sand, there are several areas that are protected by dunes and shrubs. The beach is part of the Albufera Nature Park, where local plants and animal species from the Balearic Islands thrive. In some other parts of the beach you can find bars or restaurants which are well adapted to the environment. It is a beautiful beach where the blue colour of the water amazes visitors.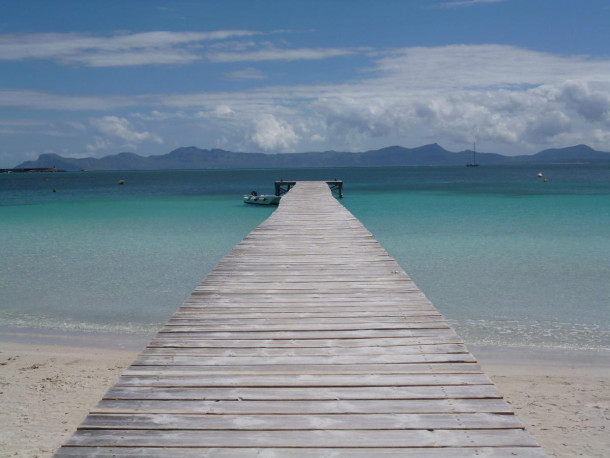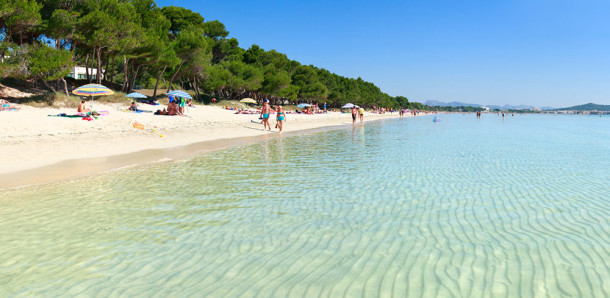 5. CALA D'OR, SANTANYI
Golden sand and turquoise sea
Cala d'Or is formed by five coves located on the south east coast of Mallorca, in the municipality of Santanyi. Cala D'Or, Cala Esmeralda, Cala Ferrara, Cala Serena and Cala Gran are amongst the main tourist destinations in Mallorca, the peaceful and harmonious surroundings make it highly acclaimed.
The beaches and coves of this area are of great beauty but of small dimensions with golden sand and a turquoise sea. Taking a dip off any of these beaches as become a regular "must" for holiday-makers who come to Mallorca. Furthermore, the restaurants and tourist services are of high quality.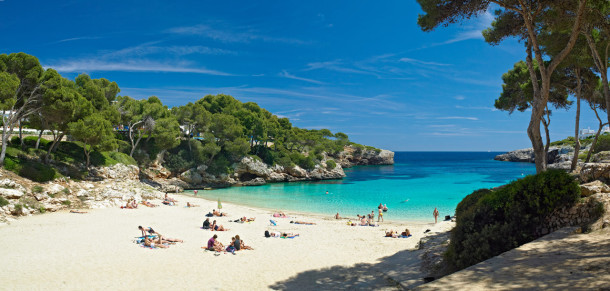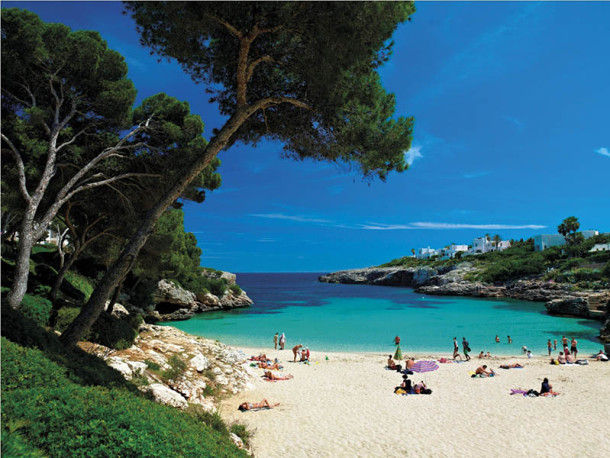 Enjoy your holidays in Mallorca!