Stunning contemporary villa for sale in Pollensa
Price: 1.800.000€
Ref: POL5721
– Villa, 2 Bedrooms, 2 Bathrooms
– Size 336 m²
People from all over the world want their piece of this paradise
The United States, South Africa, the Middle East and even from as far afield as Australia, serious property buyers are flocking to Mallorca's shores from all over determined in their quest to secure their dream villa or country house for sale in Mallorca. The property prices are extremely competitive, superb value for money and excellent rental incomes are guaranteed, the island is awash with a versatile and stunning selection of Mallorca properties for sale luring investors like never before. Nowhere else are they lost for choice to such an extent, the island offers it all and everything is currently selling.
Trendy apartments for sale in secure and gated complexes, many with direct access to a romantic beach or one of the many famous golf courses; elegant and luxurious penthouses for sale in Palma's top locations with sensational sea views; stylish town houses for sale in Pollensa or Santa Catalina which have been reformed to match the whims and wishes of the most spoilt clients; luxury villas for sale in Mallorca's hottest locations, some of innovative, contemporary style, others oozing typical Mediterranean flair. And then there are the fabulous Mallorca country residences tucked away discreetly all over the island in the gorgeous countryside. Also called "fincas", country homes for sale in Pollensa or Sóller are high on the list of property investors.
Price: 7.500.000€
Ref: POL5469CAV5
– Country home, 4 Bedrooms, 4 Bathrooms
– Size 673 m²
View the video of this gorgeous estate
The sheer diversity of Mallorca properties for sale is really quite unbelievable; you get the best impression right here on our website. From the traditional Mallorcan style which is lovingly preserved in many town and country houses for sale, to glamorous Hollywood style villas and penthouses for sale in trendy Puerto Andratx or Puerto Portals and then there are the streamlined, ultra modern properties which are favourites with the uber-cool investors, the followers of the minimalistic design.
It is wiser to invest in a property than having your money languishing in a bank and earning you next to nothing!!
The secret to Mallorca's magic is: the island offers it all!
Long gone are the days when Mallorca was only associated with low-budget tourism and snubbed by the more sophisticated clientele who preferred to flash their wealth in the South of France. The island has reinvented and transformed itself terrifically over the past decade and has emerged as the number 1 Mediterranean hotspot, no VIP would dream of not including the island on the list of "where to be seen" places! Owners of Mallorca properties for sale are delighted with this development; property prices are bedrock stable, meaning their investments are secure. The international buyers led on this year by the Brits. have the solid reassurance that their money is well spent in this cosmopolitan paradise.
Coming back to Mallorca's magic: The cool, laid-back lifestyle is one of the main attractions, that and the incredible beauty of this Mediterranean jewel where the landscape varies from the dramatic mountain range to endless fields laden with wild flowers and is crowned by the mighty coastline and glorious golden beaches. Mallorca's infrastructure is perfectly in place, the airport handles an abundance of flights every day and all locations are loaded with top class restaurants and fashionable cafés. Island products, such as wine and leather goods are flying off the shelves in shops all over the world – the list of Mallorca's attributes could go on and on, however all the island ambient would not be exceptionally special if the local people were not so open and charmingly welcoming to their foreign neighbours – the Mallorcans are the world's best hosts.
Purchase a Mallorca property for sale now, enjoy the brilliant lifestyle and become part of this international scene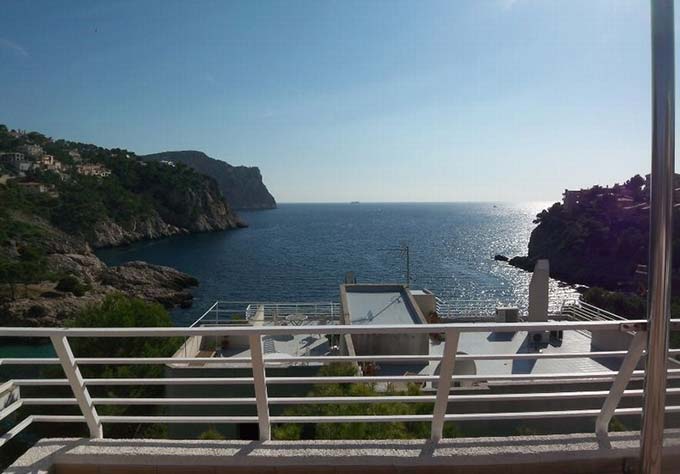 Price: 695.000€
Ref: SWOPTA11133
– Penthouse, 4 Bedrooms, 3 Bathrooms
– Size 140 m²
View this stunning penthouse now
Many ingredients make up Mallorca's magic
And no other Mediterranean location can match Mallorca's casual ability to attract holiday visitors and property investors alike and many a holiday-maker has eventually become the proud owner of a Mallorca villa or apartment for sale. Irresistible sea views – see the penthouse above – work their own kind of special magic, they have a hypnotic effect upon property hunters and who could resist temptation providing the price tag matches the purse!
Come and find out for yourself, there is a saying that, if you fall in love with Mallorca on your first ever visit, you will be hooked for life! Now that you can feel confident that an investment in a Mallorca property for sale is a safe decision, what are you waiting for – buy now before property prices start to creep up again due to the massive demand.
Let our property experts handle your property search and guide you through the whole purchase process – you could not be in better hands. They will speak your language and answer all questions that may arise. Come and talk to us now, your visions and money are safe here!