Mallorca's villages offer a cool and paced lifestyle
Pollensa's popularity as the town where you simply must own a Mallorca property for sale is steadily on the rise and there are few signs that any other Mallorca village will overtake Pollensa in the near future! Pollensa or Sóller, these 2 magic locations have always been competing hotly with each other, with Pollensa always slightly having the edge. Town houses for sale in Pollensa and Sòller mean joining pure traditional lifestyle.
Most emblematic Mallorcan towns have their corresponding port, Pollensa and Puerto Pollensa, so when you buy a town house for sale you are only within a few minutes from the international buzz of these seaside resorts. Yet a few minutes can make all the difference where lifestyle is concerned. The pace is somewhat reduced in Mallorcan villages and towns and they are less noisy or at least they have a different type of noise compared to the resort areas.
The town house for sale in Pollensa pictured above is an oasis of tranquillity although it is situated in the heart of this lovely village.
This Pollensa town house has been beautifully restored and thankfully, the owners have paid a lot of attention to the traditional style. Here, very modern elements and traditional features live in perfect harmony. This stunning house for sale in Pollensa is all about the "good life" and the best of the latest technology, installations and materials.
Soothing colour schemes and comfort throughout
This stunning Mallorca property boasts a spacious interior with the second floor reserved solely for the owner! There a magnificent master bedroom suite is complimented by a private living room. Family members and guests have their personal bedrooms with a family bathroom being shared on the first floor. The lounge and dining areas on the ground floor are perfect for relaxing and having people around for drinks and a meal.
A separate guest house ensures that there is never a shortage of accommodation for visitors, because once the word is out that you are the proud owner of a Pollensa town house for sale, you might have a steady stream of family and friends paying you a visit! The guest house is completely self-contained with its own lounge, kitchen and upstairs bedroom with shower-room.
Mallorca is also all about living outdoors and this house will not disappoint you at all!
In addition to the charming patio with the pool the balconies on the first floor also provide outdoor seating areas, perhaps for the first coffee of the day in the morning! Considering the available space, the pool has a comfortable size and the owners have cleverly left enough patio space for social moments and al fresco dining.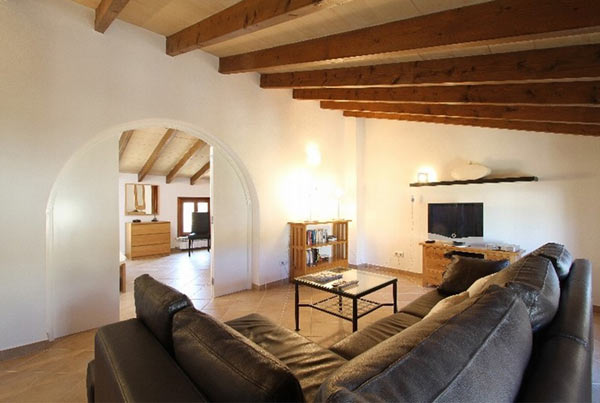 This town house for sale in Pollensa is the answer to your dreams of owning your stylish property in the sun! There is always some event or exhibition happening in this charming village – or pass the time away on its main square where the social scene takes place and you hardly ever spend much time alone.
Come and see us for more information about this and other gorgeous town houses for sale in Pollensa, we look forward to opening its doors for you!
http://www.balearic-properties.com/en/property/id/691618-town-house-pollensa.html