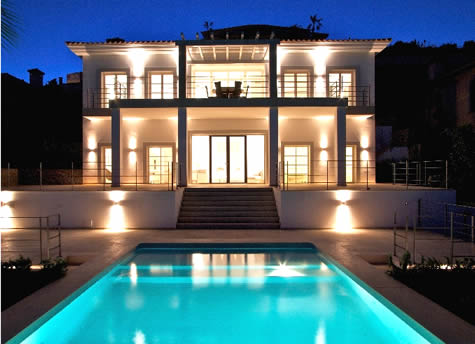 Spain's financial crisis has had a devastating effect on the country's property market, and it is expected that property prices on the mainland will continue to fall during 2014.
But it's not all doom and gloom – for the lovely isle of Mallorca, things are well and truly looking up!
Importantly, many estate agents in Majorca have reported a healthy increase in 'high end' property sales last year of between 30 and 40 per cent.
International buyers hold the key to recovery
What's more, the island's estate agents agree that top-end property prices have now returned to within 10 per cent of pre-recession levels. And it is multimillion euro sales to international buyers that seem to be fuelling the recent upturn. (Figures complied by the Spanish National Notary Association demonstrate that property sales actually doubled to overseas buyers between 2008 and 2012.)
Playing an important role in encouraging overseas buyers to invest in property in Mallorca is the Spanish government. It recently brought in a new 'golden visa' law which permits non-EU buyers of property costing more than €500,000 to become Spanish residents.
And that's not all. 'Project Paramount' has also been launched by the government. This is so Spain's 'bad bank', Sareb, can attempt to cleanse the country of toxic property held by he country's financial institutions. The jury is out, however, on just how effective the scheme really is.
Mallorca is still a great place to live
The truth is, Mallorca is still very much a highly desirable place to own a property. Antonio Fuster, CEO of Mallorca-based Balearic Properties (www.balearic-properties.com) outlines which areas of the island appeal the most to wealthy buyers. "There are four main areas: Deia and Soller in Mallorca's northwest have some beautiful fincas for sale, whereas in the south west around Andratx, potential buyers are attracted by the modern architecture, stunning sea views and the golf courses. For families, it is predominantly around Puerto Pollensa and Formentor in the north that appeal, whereas Palma, with its fascinating history, chic art galleries, shops and restaurants acts like a magnet", he says.
Antonio Fuster also offers some helpful advice for potential home owners in Mallorca: "Budgeting between €2,000 and Euro €3,000 a sq metre for construction is advisable if you are planning to renovate a property. And don't forget to add on architect's fees and VAT. Another thing to consider is the tradesmen. It's a good idea to make sure they are all working independently to eliminate any possible price-fixing", he says.
Building sites are busy
In Mallorca, the good news is that building sites are busy once more.
A good example of this is the stunning Marina Plaza II development in the Portixol area which is nearing completion. Also the chic 'Paseo Maritimo' with its high end luxury apartments offering stunning views over the millionaire Royal Yacht Club and the beautiful Palma Bay, attracts many overseas buyers too.
A final word from Balearic Property's Antonio Fuster: "Mallorca is regaining its confidence, and now is a really good time to buy", he says. "Healthcare here is excellent, the island is not overdeveloped, there is a wide range of international schools, and it is very well-served with flights from European countries. What's not to like!"