Are there Real Property Repossessions to buy in Mallorca?
It is perhaps not pleasant to reflect that the repossession of any property by the bank very likely represents a broken dream for someone. On the other hand, why would one allow the bank to take over that dream for longer than necessary? Someone might as well benefit, and transform it into an opportunity of regeneration.
Either way, Mallorca has mortgage repossessions at all points of the market spectrum, and certainly including the luxury end properties. You must bear in mind that the contract of sale will be between you and the mortgagor, which will usually be a bank. Dealing with the bank direct could sometimes be a bit difficult or lead to communicational and linguistic misunderstandings. This is the reason why property companies usually act as intermediaries for the banks.
They may also act regarding properties that have been repossessed by other means – for example by the tax authorities or as the result of a court judgement. You can deal direct with these agencies, but you will still need the services of a notary and perhaps an independent lawyer. You will also have to pay the land registry and all the relevant taxes, and the bank should be selling you a property that is free from any debts and liabilities other than the actual mortgage. However, your lawyer will check that sometimes a bank has more repossessions than they can and such things can be overlooked. Certainly, repossession prices can be far below general levels, even up to 70-80%.
It may well be the case that you actually take over an existing mortgage, and also that you yourself as the new purchaser, may require a mortgage. Again,it is possible to arrange this through the repossession agency.
Where can we find these repossessed properties in Mallorca?
Incredibly, almost everywhere you would think of buying a place on the island. Great houses come up all the time in the countryside, on front-line coastal towns, from north to south and east to west. This market can move quickly, for obvious reasons, so you need to keep an eye open and sometimes act before someone else buys the house of, this time, your dreams, if not those of the last owners.
We have selected belo some of the best Bank Repossession Properties in Mallorca: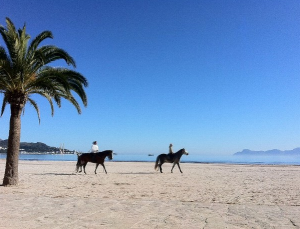 Modern frontline apartment with breathtaking sea view in North Mallorca – Bay of Alcudia (Click on the  Title to See the Full Details)
Purchase Price : 1,000,000 €  (Bank Repossession Unit for Sale)
Classical and immensely luxurious Villa occupying an elevated position overlooking the entire Puerto Pollensa bay (Bank Repossession Property Listing)
Price Upon Negotiation with the Bank
Other Great Bank Repossession Properties for sale in Mallorca:
Modern Villa with Stunning sea views and Outdoor/ Indoor Pool – Bank Repo