As Mallorcan wines become more and more admired and sought after worldwide, it is only fitting that the island should continue to 'punch above its weight' by opening a fabulous new state-of-the-art winery.
The impressive Son Juliana winery, situated in Sa Torre de Santa Eugenia, is the latest contemporary winery to grace the island. It ticks all the right boxes too. The winery's green credentials are very much in evidence: impressively, the facility is 100% solar powered and not connected to the electricity grid!
Chic design meets traditional architecture
It's all rather beautiful at Son Juliana. Achingly cool in design, (thanks to renowned Spanish architects, Munarq), the low-lying complex also features attractive rustic features such as 'mares', the traditional Mallorcan sandstone, layered on top of the prefabricated concrete inner base.
As soon as you arrive on a visit to Son Juliana, you will notice how the design and construction blends in perfectly with the beautiful Mallorcan landscape, in particular the stunning backdrop of the Tramuntana mountains which the island is famous for.
A corker of a roof!
One of the most surprising features of the 1,300 square meter Son Juliana winery is that the roof of the underground cellar is lined entirely with cork.
Why cork you may ask? Well, quite simply it keeps the wine cool in the hot Mallorcan sun and the winery well-insulated from winter cold. (Cork does not absorb heat like most other construction materials, so the roof assists the insulation of the entire building, helping to keep the wine at a constant temperature.)
And there's more. The winery's light-coloured ceiling reflects the sunlight also helping to keep the wine cool. All this contributes towards making Son Juliana possibly the most eco-friendly winery in the whole of Spain.
Wine making – the Mallorcan way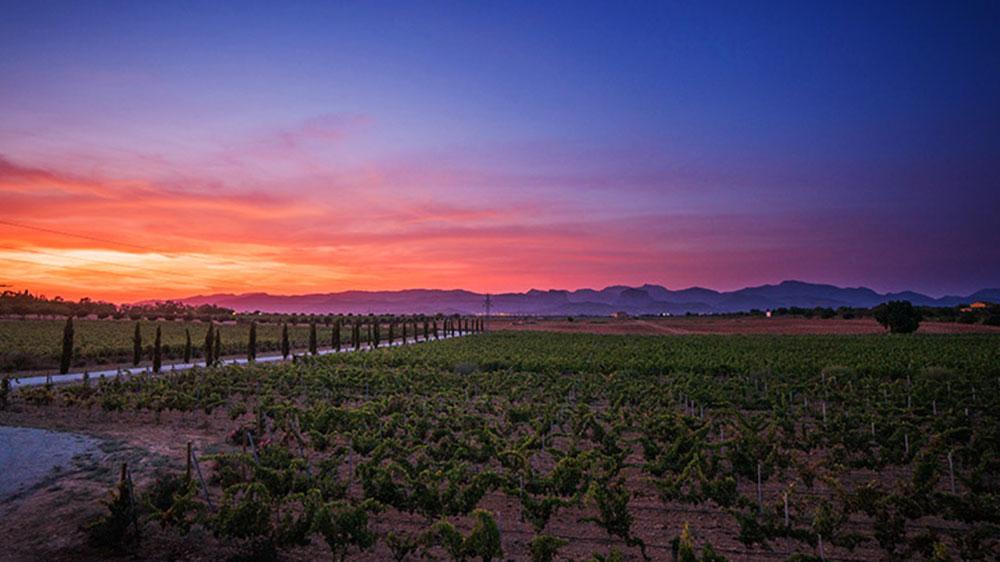 Everything has been carefully planned at Son Juliana to make some of the best wine on the island. The locally-harvested grapes enter via the east entrance of the winery before the pressing and fermentation process begins.
The wine itself is matured in traditional wooden barrels. It is then bottled and labelled, before being passed onto the west wing which, in turn, connects to the winery's sales rooms, which are open to the public allowing visitors to enter and sample the delights. 
Raise a glass to Mallorcan wine!
Wine production was originally brought to the island of Mallorca by the Romans. Over 2,000 years later a wide range of Mallorcan red, white and rose wines can be enjoyed by locals and visitors alike.
One thing is for sure, it won't be long before we pay a visit to the state-of-the-art Son Juliana winery. 
Cheers! 
 See our properties for sale in Mallorca >