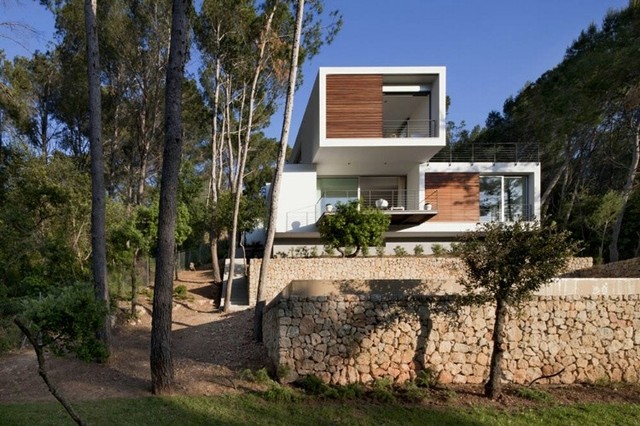 Serving up a laid back take on a splendid island life, Puerto Pollensa is a small town on Mallorca's north east coast. Its location is astonishing with an incredible backdrop of the Serra de Tramuntana mountains, it is situated in an oyster-shaped bay.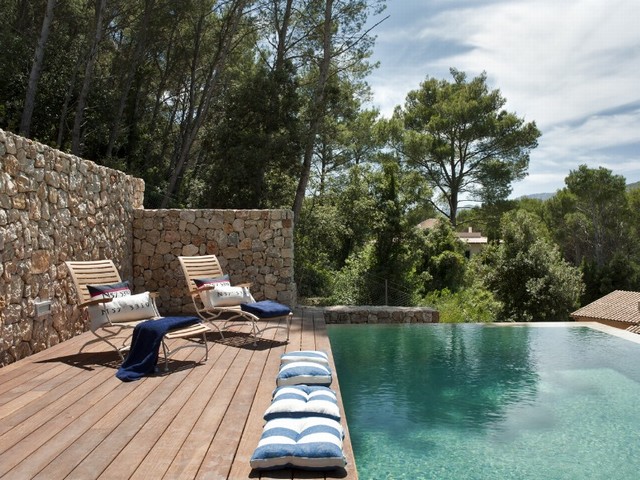 About the area: Puerto Pollensa
With a chic marina, pretty beaches and charming old stone houses, it is the place where one would love to be while in Mallorca. There are two amazing beaches in Puerto Pollensa, one of which is the Pollensa Beach that gives a kilometre long stretch of golden sand with plenty of sun loungers and numerous water sports centres. This beach is located south of the marina and then there's another beach, the Albercutx Beach which is a narrow but family friendly 2 km long strip with marvellous and beautiful natural shade and shallow water.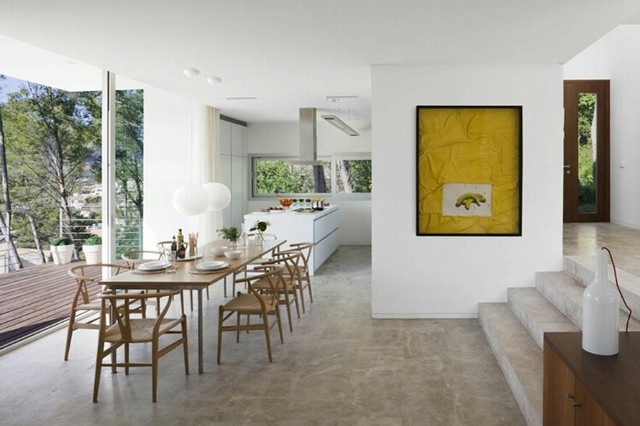 Puerto Pollensa is certainly a picturesque town which scores quite high as far as beauty stakes are concerned. It makes a perfect place for living and also has a wide range of seafood restaurants which serve mouth-watering cuisine. In the close proximity of Puerto Pollensa, is Cap de Formentor which is a rugged peninsula with huge cliffs.
You can find many attractive and appealing properties in Pollensa, Mallorca which are not only contemporary but guarantee good living in a natural environment. One such property is a 2010 built modern detached house.
To have a look on the property, log on to http://www.archdaily.com/404877/casa-gotmar-138-miquel-angel-lacomba/.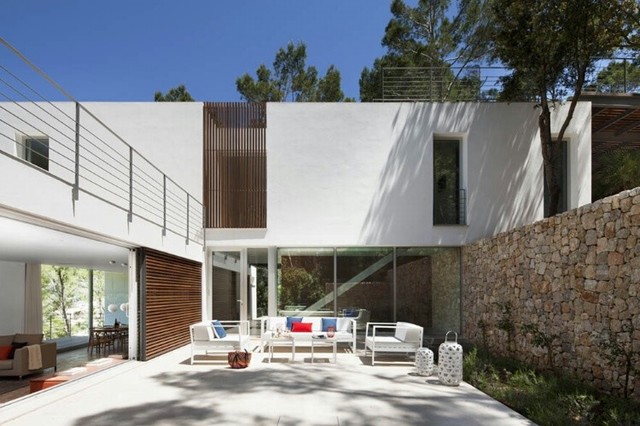 Modern Architecture
This is a striking piece of architecture which is located on a privileged mountainside plot towards the north of the town, from where you can enjoy dazzling views of the mountains and the forests. The architecture of the house is such that it avoids the displacement of larger amounts of soils and maintains the oak and pine forests around the house.
There is a beautifully built living room and the deck facing the south, which gives you a warm and intimate space.
The bedrooms are located on the upper floors while the kitchen, dining and living rooms are on the ground floor. You will get the convenience of your own lift in the house. The first floor has two bedrooms with balconies offering magnificent views of the Tramuntuna mountains and on the top floor, there is a state of the art master bedroom with en-suite featuring a splendid oval (egg) shaped bath. The sliding wooden door to the studio constructed on the front side of the house opens to give a spectacular view. On the lower level, there is yet another floor which houses a utility room with washer and dryer. The steps in the house lead you down to a large, heated infinity swimming pool and a wonderful sun terrace, giving you the perfect opportunity to bask in the Mediterranean sun.
The best feature of the house is its close proximity to the beach, yacht club and town centre. The house is wonderfully surrounded by many covered and open terraces with the landscaped gardens. The closeness to the beach & mountains, and the astonishing architecture of the house, makes it blend amazingly well with its surrounding landscape. Other features of the property include hot/cold air conditioning, fireplace, gallery, automatic entrance and aluminium carpentry.
So, if you are looking for an exquisite property in an excellent location with unique and modern facilities, then this villa would be perfect for you. It has been designed in such a way that you can use it personally or make it a profitable rental accommodation.
To have a closer look at the villa, log on to http://www.balearic-properties.com/en/property/PTP4530/modern_property_beach
If you like the Pollenca area and want to look out for alternative choices, you can browse the link http://www.balearic-properties.com/puerto-pollensa
Puerto Pollenca in Mallorca is a place where you can find properties suiting varied budgets. There are affordable properties which are small but splendid, and there are lavish large villas as well. However, it completely depends on you and your decision in which kind of property you would like to invest. The above mentioned web link shows some of the best Pollenca properties, including villas and land for sale in the vicinity. You can find anything from a luxurious Pollenca property, to more affordable houses and undeveloped plots where you can build your own villa to your customized specifications.
Though buying real estate property in Pollensa can be an adventure, you most certainly need a reliable agency. Balearic Properties and its head office in Pollensa can make this task certainly very comfortable for you. You can call us anytime for an appointment and they will help you out by contacting within 24 hours.
Price of this villa is 1,450,000 Euros. Enquire Now
Phone: 0034 – 971 532221