For a fairly small island, Mallorca is very lucky to have so many first class entertainment venues. In Palma alone there are two great theatres, which play host to a diverse range of musical theatre throughout the year for the locals and visitors to the island.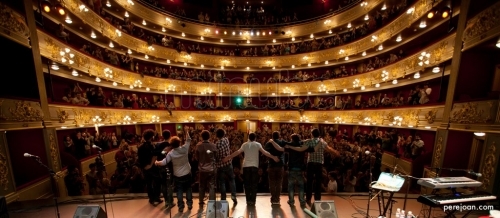 The Teatro Principal, near Plaça Major has recently undergone a major refurbishment and is a magnificent, yet still quite intimate venue to see some of the best visiting theatre groups. The stalls and the dress circle are as one would expect, but the best thing about the theatre is that the upper circles are made up solely of private boxes – from the upper circle right up to the gods, it´s little intimate boxes all the way around.
Compared to the price of London´s West End tickets, the Palma prices are an absolute steal, and so too are the bar prices (small bottle of water and glass of cava €4.00).
A jolly night out at the theatre for a reasonable price just makes the whole experience so much more enjoyable.
The Auditorium on the Maritimo is more modern by design and is feted for it´s superb acoustic sound. A well publicised programme of entertainment is enjoyed throughout the year; The Moscow Ballet regularly performs Swan Lake, and over Christmas, the Nutcracker is usually schedule. Being Spain, the kick off time is usually late, so a little tricky for children. For more information www.auditoriumpalma.com
Then there are the incredible open-air venues. Live musical events are held all through the summer season at Castell Bellver; Could there be a more stunning and romantic setting for a musical evening on the island? Glydebourne meets Palma head on …..
The fabulous thing about living in Mallorca is that there is a lot of entertainment out there, available locally.
Many of the smaller towns around Mallorca have original old theatres, which play host to local theatre groups. Something not to be missed.
Some of the big names that visit Mallorca (Elton John and Andrea Bocceli – a once in a lifetime ticket) performed a while back. The events are held either in the Bull Ring or the Stadium. Always well advertised in the local press in advance and are normally sold out.
Then of course if you are young and hip and loud music is your thing, Mallorca Rocks in Magaluf is THE place to be. Since it opened a couple of years back, it has hosted some of the biggest names in rock and pop. Recent visitors have included Elbow, Plan B (keep up) and in the last few weeks Franz Ferdinand and the Courteeners (I know the spelling is strange but trust me, that´s how they spell it) It´s closed now anyhow until next year… Thank goodness for that. I don´t have to embarrass myself any further in 2013.
Not adverse to a bit of loud music myself I saw Seal live in Santa Ponça a while back. Again, the tickets were reasonable, and it was the most bizarre thing. He was performing in a kind of open venue in a field on a very strange small stage. It was a memorable night out
Links to online Tickets for events in Palma de Mallorca
http://www.ticketmaster.es/nav/es/musica/palma_de_mallorca/eventos.html