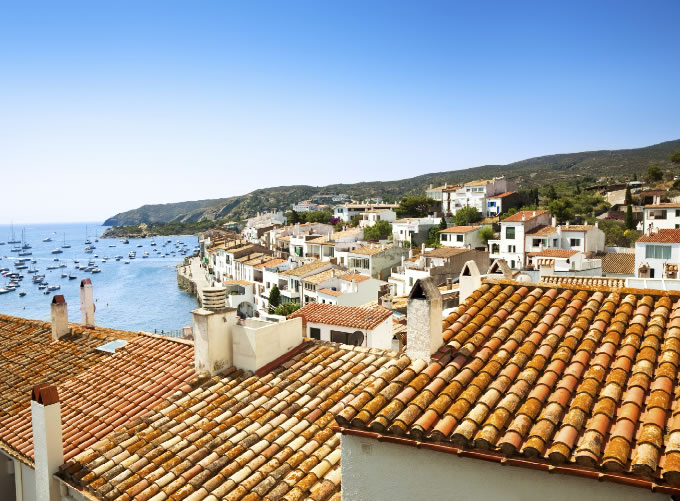 The Simon Letter
A Publication of Live and Invest Overseas
By Lucy Culpepper
June 2013
Yes…and no. It depends what you're looking for.
Enormous differences exist among property markets in Barcelona, Madrid, the Costa Blanca, and Mallorca and those in rural Andalusia and other inland regions of Spain. There always have been differences, but, in today's crisis market, the differences are more apparent than ever. Prices vary widely, and wildly, among regions, parts of a town, and even along particular coastal strips.
Big picture, where is this market?
Some reports and opinions predict that prices continue to fall and are expected to fall further across the country; others say they have bottomed out. Meantime, reliable figures show that sales to foreigners are up. In other words, foreign purchasers seem to believe that prices have bottomed out. The latest report from the Colegio de Registradores de la Propiedad Bienes Muebles y Mercantiles de España (College of Property Registrars of Spain) says foreign buyers in Spain represented 8.12% of total sales in 2012. That's just 0.85% less than pre-crisis figures.
Eurostat, the EU's statistics office, reported at the beginning of May 2013 that house prices in Spain fell 12.8% in Q4 2012 compared with the same quarter in 2011. They wrote, "Compared with Q3 2012, house prices fell 1.4%, the smallest fall in percentage terms for 2012," suggesting that, across the board, the rate of decline in house prices may be slowing.
On The Other Hand…
The Organization for Economic Co-operation and Development's (OECD) latest Economic Outlook (published May 29, 2013) reports that real house prices are continuing to fall in Spain. And the College of Property Registrars reports that house prices in Spain fell by more than 13% in 2012, more than the declines registered in 2011 (-10.5%) and 2010 (-6.6%), and amassed a drop in value of about 30% since their peak levels in Q1 of 2008.
According to the Registrars, "The new tax changes – the end of tax deductions for home purchases and the increase in VAT from January 2013 – have not changed the fundamental trend of past years."
At the beginning of May, Goldman Sachs economists Andrew Benito and Sebastian Graves said more homeowners could be at risk: "Our preferred model values housing based on the relationship between rental yields and real borrowing costs. The current level is consistent with house prices falling by a further 10% to reach an implied equilibrium."
Just one week later Standard & Poor warned that, "Spanish house prices are to fall a further 13% by the end of next year as the authorities flood the market with a backlog of repossessed properties. Spanish prices have already dropped by 28% from their peak in March 2008 and face a fall of 8% this year and 5% next year as bad bank Sareb gradually sells its stock of 91,000 foreclosed homes."
Sareb, Spain's "bad bank," has more than 50,000 million euro in real estate, loans, and credits, which must be paid off over the course of 15 years. It's hard to get hold of the exact numbers of properties held by Sareb, but an estimate made by Ian Maitland of International Property Alerts suggests Sareb holds 200,000 units made up of 76,000 empty homes, 6,300 rental homes, 14,900 land plots, and 90,500 property loans. Sareb has started trading through nine listed banks.
Then Again…
Building cranes have arrived at locations across Spain and even some that have lain dormant since 2008 are "swinging back into action," according to John Howell in his article "Return of the Cranes" for the Overseas Property Professional.
I've contacted a number of real estate agents and professionals involved with real estate in Spain, and to a man (and woman) they say now is the time to buy in areas that are popular with
tourists and expats. There is evidence that demand and prices are starting to climb in the Costa del Sol and the Costa Blanca and that recovery is already under way in Mallorca and Ibiza in the Balearics and Tenerife in the Canaries. Marc Pritchards of Taylor Wimpey Spain (España), which specializes in new builds on the Costa del Sol, the Costa Blanca, and Mallorca, tells me their sales have tripled compared with the same time last year.
In response to this feedback, you might think, well, agents and developers would say that wouldn't they! They're trying to sell properties.
Perhaps national statistics are a better indicator. The trouble, though, is that national statistics quoted by various authorities and observers don't take into account the huge variation across the nation.
Right now, it's all about location, location, location.
What may not yet have bottomed out and may have a big impact on national statistics are rustic-style homes that need renovation and repairs and town and city properties that are not attractive to international buyers. Phillip Inman, author of "Managing Your Debt," wrote in the Guardian newspaper recently, "Unemployment levels are reminiscent of the days of Franco. The country was virtually a feudal, agrarian economy the last time almost six million workers were unemployed."
It's not the Spanish population who will re-ignite the property market; it's foreign investors.
Liz Rowlinson, editor of the property magazine and property portal A Place in the Sun, recently returned from a trip to the Balearic island of Menorca, writes, "Whilst Spanish banks have hundreds of properties on their books, the bulk of them would not be of interest to overseas holiday home buyers, so the odds are that the volume of these will depress these prices further. In contrast, in highly popular areas, prices seem to have bottomed out and are remaining stable."
Daniel Talavera of the property site The Spanish Brick suggests that the market in Madrid has also bottomed out. Is it time to buy there? Here's what he says: "I am of the view that property prices in Madrid are touching rock bottom. In 2009, a flat in Madrid city centre with a price below 3,000 euro per square meter was considered a bargain. Now the average is already below 2,000 euro per square meter. Prices are low, demand is alive, and direct negotiation with vendors can deliver greater deals. Bargains are there, but, being realistic, they are difficult to find and it takes hard work to get them."
Some properties are still on the market at inflated prices; these prices may eventually fall, but many of these properties are owned by Spanish families who are not in a rush and will hold onto them in the hope that one day prices will rebound or the fashion for their rustic finca or masia will return.
The Foreign Buyer Returns
Take a look at the figures from the Property Registrars of Spain's recent report; there's clear evidence that foreigner buyers have returned to Spain.
Percentage Of Sales To Foreigners In Spain
2012: 8.12% 2008: 5.85%
2011: 6.04% 2007: 8.29%
2010: 4.45% 2006: 8.97%
2009: 4.24%
(Source: Colegio de Registradores de la Propiedad Bienes Muebles y Mercantiles de España)
So where does all this leave an international property investor…or the would-be second home-buyer or retiree in Spain? Whose market analysis and projections are to be believed and whose should be discarded?
It's my belief that all the information presented is accurate; prices are still falling and, at the same time, have bottomed out. As I've said, it depends where, specifically, in the country you're talking about.
The important question to ask yourself, therefore, is which market are you interested in and where? Is it the tourist/expat market (i.e. the costas) or the local Spanish market? Is it for buyto-let, part-time living, or full-time retirement? Are you interested in a finca (farmstead), a villa, a town house, a new house, or an apartment? All have different characteristics, appeal to different buyers, and are at different points in their post-crisis cycles. It's mainly the coastal areas that are seeing resurgence in foreign property investment, as northern Europeans make a slow but definite return to the market. In 2012, home purchases by nonresidents increased by 42% and home purchases by resident expats increased by 25%, whereas purchases by Spaniards increased by only 2%.
According to the Property Registrars, four out of the top seven nationalities buying property in Spain in 2012 came from beleaguered European nations, including the UK, France, Italy, and Belgium. Yes, Russia and China were in the top 10, but the fact that the Brits, French, and Belgians are making a comeback, I think, suggests that the bargains on the table right now are worth your attention.
Top 10 Nationalities Buying Property In Spain In 2012
British: 16.63% Norwegian: 5.73%
French: 9.96% Italian 4.93%
Russian: 9.62% Swedish 4.66%
German: 7.92% Chinese 4.30%
Belgian: 6.51% Algerian 3.41%
(Source: Colegio de Registradores de la Propiedad Bienes Muebles y Mercantiles de España)
Marc Pritchard of Taylor Wimpey Spain, who specializes in new builds on the Costa del Sol, the Costa Blanca, and Mallorca, told me they have sold to 18 different nationalities already this year:
"The British market overall is still the strongest. The Scandinavian markets are strong on the Costa Blanca and Costa del Sol with Norway ahead of Sweden and Denmark. Russia is getting stronger every year and is and will be one of the main markets in the future. The German market is strong on Mallorca. Belgians are strong, too, but only on the mainland. The new markets we have seen this year are from Kuwait, Saudi Arabia, the Emirates, Jordan, and Morocco, who are buying on the Costa del Sol and in Marbella."
If you're buying for part-time living and part-time rental, I'd look at current foreigner buying preferences, discussed below, and research the vacation rental market.
There is certainly no shortage of websites dedicated to serving the vacation rental market in Spain. However, two that are particularly popular among British vacationers are HomeAway.co.uk and OwnersDirect.co.uk. Look at availability and prices represented on these sites to find out what and where is in demand.
Spain is divided into 17 autonomous communities (autonomías) and two autonomous cities (Melilla and Cueta). The autonomías are divided into provinces, the provinces into municipalities. (A handy Wikipedia page summarizes all of this.)
Winning Autonomías
In 2012, the frontrunner autonomías for property purchases made by foreigners were the Balearic Islands (24.95%) and the Canary Islands (22.11%). Following them were Valencia (18.01%), Murcia (11.24%), Catalonia (9.34%), and Andalusia (8.86%). (Murcia is a little confusing: the autonomous region is called Murcia, it has one province called Murcia, and the capital is called…Murcia.)
The demand for real estate by foreigners was predominantly in the coastal provinces of Alicante (Valencia Community): 33.39%; Tenerife (Canary Islands): 27.19%; Gerona (Catalonia): 25.35%; Balearics (Balearic Islands): 24.95%; Las Palmas (Canary Islands): 17.40%; Murcia (Murcia): 11.24%; Tarragona (Catalonia): 7.65%; and Malaga (Andalusia): 3.56%.
An investor should therefore get to know the Spanish costas and islands very well before he even begins to try to target a particular purchase. Running from the northeast of the country to the south are the Mediterranean costas. The most well-known are Costa Brava (northern Catalonia), Costa Blanca (southern Valencia), and Costa del Sol (the southernmost part of Andalusia).
The less well-known costas, are, running from north to south down the Mediterranean, Costa Dorada (Catalonia's southern coastline); Costa del Azahar (northern Valencia); Costa Calida (Murcia) and Costa de Almeria (eastern end of Andalusia's coastline), the two hottest and driest costas; Costa Tropical (center of Andalusia's coastline); and the Costa de la Luz (on the southwestern Atlantic coast). On the northern Atlantic coastline lies the largely undeveloped and untouched by tourism Costa Verde of Asturias and Cantabria. And then of course there's the green Galician coastline, which doesn't seem to have a name of its own and has only recently developed a tourism industry.
What You Need To Know Before You Buy Real Estate In Spain
If you do decide to diversify your investment portfolio or your life in Spain through the purchase of a piece of property, the first thing to note is that you must have an NIE number or Numero de Indentification de Extrajanero. A reputable real estate agent will help you with this process. AngloINFO Spain gives a detailed explanation of the NIE and the application process.
You should also be aware that some properties (a minority) should be steered clear of because the builder or developer has not followed planning regulations. Making sure you are aware of some key facts will help you avoid potential pitfalls.
Always use an independent lawyer who specializes in property sales and speaks fluent English and Spanish.
Don't sign anything unless you are presented with an official translation.
Make sure the agent or developer is a member of a professional association. One that is recognized in the UK (one of Spain's biggest markets) is the Association of International Property Professionals (AIPP).
If you buy a new-build or off-plan property make sure your deposit and stage payments are paid into an escrow account to protect your money until the property has been completed.
Make sure your lawyer checks into any local laws that may affect the purchase of your property. The Valencia land-grab story and the Coastal Law (ley de costas) resulted in many expats losing their homes, in some cases to bulldozers. Avoid cash sales.
The Spanish Registrars organization offers a free guide to buying real estate in Spain that can be downloaded from their site here.
And the British Foreign Office has an excellent review of the buying process, including a buyer's checklist, available at "How to Buy a Property in Spain."Here are other important points you should be aware of:
The government is introducing more control over residential property rentals, requiring home owners to apply for a license that may or may not be granted. (A license is already required in the Balearics and Canaries.)
Tax residents in Spain must now declare overseas assets (above €50,000 per asset class).
Tenants of long-term lets can now walk away from a tenancy agreement with one month's notice after just six months into the agreement.
Rental income can now be taxed at rates as high as 24.5%; however, deductions are possible that can reduce the rate to 5.25%.
It is not as easy as it once was for a foreigner to obtain a local morgage; 50% to 60% of valuation is realistic.
Non-resident owners must pay property taxes (see "Taxes for All").
On the other hand, there are also incentives for investors, particularly non-EU investors. In July, new rules will come into effect to grant non-EU nationals who spend at least €500,000 on property in Spain to receive automatic right to residency in the country.