When it comes to enjoying life peacefully in harmony with nature, surrounded by idyllic rural landscapes as well as breathtaking sea views, it is really hard not to fall in love with the north of Mallorca, and more precisely with Pollença, which is definitely the place to be.
Helmut and Danna Swarovski were no exception. Fascinated by the magical environment the Serra de Tramuntana together with Pollença's valleys offer, the great grandson of the Austrian who in 1895 established the current world's leading company of luxury cut crystal products decided to buy Can Botana in 2000 without even telling his wife. By the time Helmut acquired this finca covering 1,232,720m2 located close to the crystal-water of Cala de Sant Vicenç, the living area of 673m² needed a complete refurbishment. With the help of the architect Sergi Bastidas and the developer Wummi Wagner, it was possible to transform a 400-year-old country manor (possessió) into a comfortable elegant mansion that combines the traditional Mallorcan style with stone walls together with more contemporaneous interior design and architecture trends.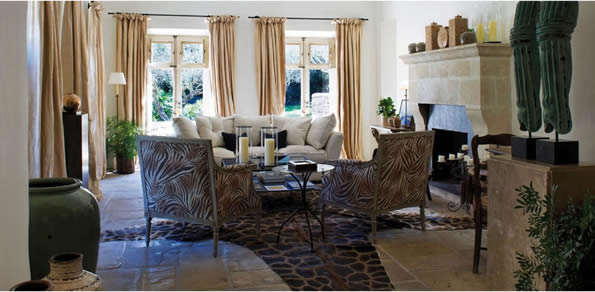 Traditionally, the original rural building had been devoted mainly to the agricultural activities of the farm managers of the finca, but also housed the proper landowners. The old manor's primitive essence and character was kept, maintaining for example the so typical stone walls and stone basins embedded in the kitchen, or the flooring tiles. But, pretty much the rest was completely restored in terms of room distribution and decoration offering then four en-suite bedrooms, different living rooms, a dining room, a lovely kitchen and grand entrance hall. The overall result was a complete piece of art surrounded by fruit and vegetable gardens, a swimming pool, an outdoor dining area and a barbecue.
Can Botana, an ambitious renovation project
This ambitious project lasted for two years, a period after which the couple changed their mind of first selling the property and they made it their second residence, instead. Now, the Swarovskis feel it is time to conclude their phase in Can Botana as they do not have enough time to make the most of it and this estate deserves to be enjoyed. Although it is only available for very few people, the luxury estate agency Hamptons International in association with the local Balearic Properties is in charge of this unique mansion on sale for 12m euros, becoming one of the most exclusive and expensive estates in the island. However, they all feel very optimistic because the luxury end of the market is increasing and selling well in the Balearic Islands, especially among British, German, Scandinavian and Russian visitors attracted by the natural beauty of this paradise.
Related Links to this article:
See the full property details by cliking here
http://www.telegraph.co.uk/property/internationalproperty/10261974/For-sale-the-Swarovskiss-crystal-palace-in-Majorca.html