Perhaps when buying a luxury villa in the Balearics its Eco or Green credentials would not be at the top of many wishlists. If you asked most agents, they would probably confirm that while green living as an idea has gained more prominence in certain areas of Europe than others, they have not had up to now many clients asking about how green the house they are thinking of may actually be. But it is becoming more popular and it seems that most environmental enquiries arise in the German luxury market, since Germany is far more eco-aware than much of the rest of the EU.
What do we mean by a "green" house here?
Surely that means when building your villa or country home, consider making more use of the abundant natural materials of Mallorca. The Mallorcan style is a range of natural, usually sand-coloured stone for exteriors which nowadays is deliberately being used as the outer shell behind hi-tec well-insulated structures. Remember that Mallorcan winters are certainly not harsh, but such a structure keeps buildings cooler in summer too. The artisanal dry-wall style (cemented for house exteriors of course) is truly beautiful and charming, and in combination with a swimming pool area and more modern extras which use, for instance, large areas of energy-conserving, UV-reflecting glass or oxidized iron persianes (shutters), the effect is both traditional and spectacular.
Then there are many local marbles and stone finishes for entrances, window frames and so on. This means in particular that it is possible to transform the rural finca in a way that is totally keeping Mallorcan architecture but it is also subject to the requirements of a modern family. Solar panels have been a legal requirement on all new-builds for some years now and these can be discreetly installed to make a significant contribution to hot water and heating systems. In the country, an independent water-system including recycling for the irrigation of gardens is a sensible addition for comfort too, and is part of the whole way of thinking, when you create or renovate any house anywhere.
What else would you do but try and get it right where years ago it wasn't possible, so as to be energy-efficient, warm and cool?
Eco-houses in Mallorca are becoming more and more popular , developers  are using the highest quality materials.
Eco property showcase in Mallorca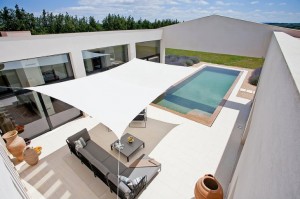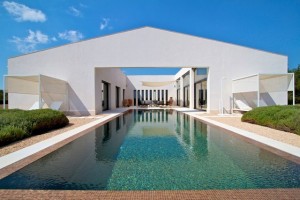 Mallorca elegant designer Eco House for Sale – Purchase Price 2.800.000 €
Stunning designer contemporary ECO country home with pool set in quiet and inspiring countryside at the foot of the Puig de Santa Magdalena.
read more info about this property…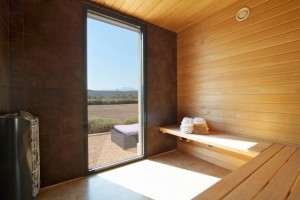 Green Architecture