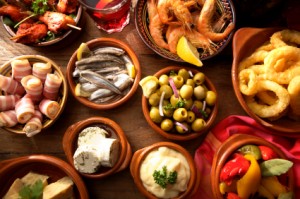 It may well be that the Spanish region par excellence when thinking of eating tapas is Andalusia. However, did you know that Palma is also widely renowned as a city with many specialised bars?
Founded in 1936 and located near El Born in Palma, my favourite bar is  the legendary Bar Bosch  famous both for its llagostes and variats. The former are special sandwiches prepared with typical bread from Majorca, the llonguet, stuffed with a wide variety of ingredients: from all sorts of ham, to French omelette or tuna with cheese, among others. On the other hand, a variat is precisely a dish made of different kinds of tapas. Customers can eat in the same plate from fried squid and meat croquettes to sautéed mushrooms or Spanish omelette.
There are other key bars where one must go to enjoy this typical dish. One is "Cinco Abejas", located in Vicente Juan Rosselló Street. The best dish that they offer is cod with tomato sauce, apart from the homemade tapas with pintxitos (very spicy meat brochettes) or fish in brine. Ca la Seu, a former rope maker's shop, now is a bar where customers enjoy not only typical Majorcan tapas such as frit mallorquí (fried potatoes with red pepper, peas, artichoke and liver) but also pintxos (small slices of bread with almost any ingredient on it).
Finally, if you want to have a cold beer together with Andalusian tapas, "El Rinconcillo" is the best place where to do so. Opened since last month of
March, in a short time it has become one of the best places where to enjoy tapas.
See pictures of the famous Llonguet
Balearic Properties is the specialist for properties for sale in Palma with a large selection of city flats and houses for sale in Portixol and Old Town Palma