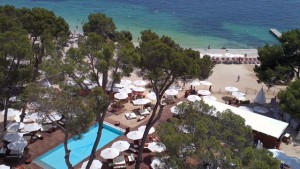 If there are two terms that best define Nikki Beach in Mallorca, those are both luxury and glamour. This beach club, described as an establishment representing "coolness and sexiness", is famous in the island not only for its views but also for the events it organises.
In that respect, the club is hosting the "Nikki Beach Yacht Party" next Saturday, an event with resident and guest DJs playing dance and house music, Live Performances and Energy Dancers recalling luxurious boat parties.
Plenty of other special events will take place during the month of July, among which the first year anniversary will take the limelight. According to the organisers, this masquerade event is set to be a night "full of glitz" including many surprises.
Furthermore, Nikki Beach is also a place where one can relax and enjoy unforgettable sunsets accompanied by friends and relatives. Meanwhile, from the 3rd of May until the end of August, customers can also get the most out of a three course set menu by starlight in the terrace that the staff specially set and decorate with candles for the occasion. Afterwards, why would one not dance in one of the best nightclubs in town, such as Nikki Beach Mallorca?
Regarding star-filled night skies, Nikki Beach is well-known for its monthly Full Moon parties as well. Next 22nd of July, from 10pm one can "moon-bathe" together with DJs and interactive performance artists. It is definitely a special chance that cannot be missed.
Ultimately, Nikki Beach is more than a beach club. It also comprises a restaurant, a cocktail bar, a beach restaurant, a boutique as well as a service of beachside beauty treatments and a zodiac yacht pick-up service.