Make sure you are out and about this week celebrating two of Mallorca's finest fiestas.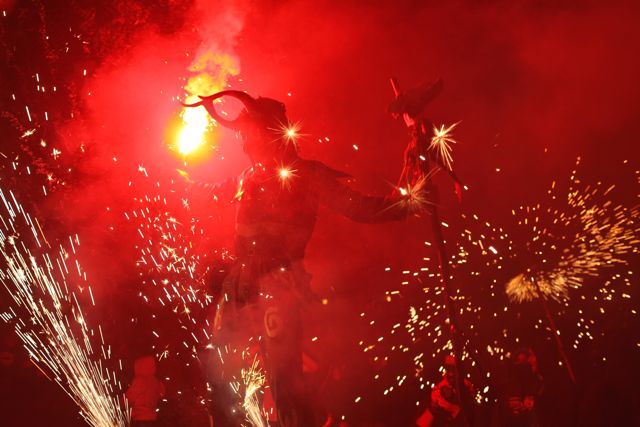 Sant Sebastián day is held on 20th January and many events, free concerts and activities are being held all over Palma on the lead up to this day. See here for a detailed schedule of all up coming events.
The biggest and most celebrated night of the week long festivities will be the Revetla de Sant Sebastián (eve of the saints day) on 19th January. First there will be procession of the Gegents y Capgrossos (Giants & Bigheads – papier mache figures of historical figures) which will start at Plaça de Cort and leads to Plaça Major where you can dance with them and the 'xeremiers'. Make sure you stay in Plaça Major after this as at 8pm a huge bonfire will be lit and music will continue well into the night in various plaças and venues throughout Palma.
On Sant Sebastián day itself a mass will be held in Palma Cathedral, to which Saint the Cathedral is dedicated to.  Sant Sebastián has been the Patron Saint of Palma de Mallorca ever since 1524 when it is said that a bone from his arm arrived by boat from Rhodes and this marked an end to the Plague that had at the time besieged the city.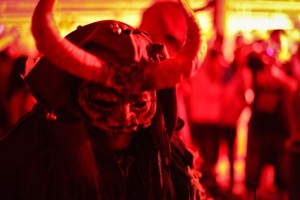 It is on the 21st however, that you will need your wits, your courage and your running shoes as the famous Correfoc (devil run) is scheduled to begin at 7pm from Teatre Mar i Terra, Carrer de Sant Magi (map).  Expect smoke, deliciously scary masks and plenty of pyrotechnics throughout the streets during this run… will you be brave enough to dance with the devil or to resist him when he comes to dance with you?
The emphasis on devils however is more so linked with Sant Antoni Abat day, celebrated on 17th January, as it was Sant Antoni who resisted the devil who came, in the form of a woman, to visit him in the desert. The priest overcame this lustful temptation by walking over burning embers. Sant Antoni is well known for being the Patron Saint of Animals and so on his day throughout many towns and villages in Mallorca the locals bring their pets and animals to the local priest for blessing. Make sure to head to Pollença on the 17th as they mark St Antoni Abat's day by hosting a parade in the morning, followed by a trip into the Ternelles Valley where they cut down a pine tree and, after a much earned feast of bread, oil and wine, they bring the pine back to town where it is erected in the main square, greased and presented as a challenge to any young Mallorquin local to climb to the top. Fun and frolics, and traditional hearty drinking of course, ensue.
Balearic Properties Real Estate wishes you a fun fiesta time this week!